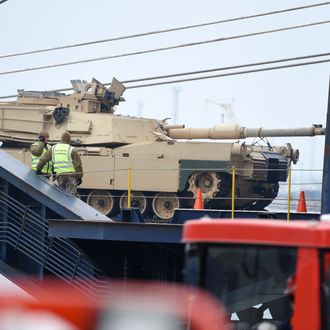 Photo: Ilmars Znotins/FP/Getty Times
As the West's relationship with the Russian government continues to deteriorate, the U.S. is considering a return to Cold War policies in the hope of containing Russian aggression in the region. The New York Times reports that U.S. and allied officials are making plans to move heavy weapons including tanks and infantry carriers, as well as many as 5,000 troops, to Eastern European and Baltic countries, which would mark the first time such military resources would be stored, or more specifically, pre-positioned, in the former Soviet states now part of NATO.
Since the expansion of NATO after the fall of the Soviet Union, the U.S. has previously resisted requests for such a move out of fear of damaging international cooperation and trade with Russia. Now another fear — that of Russia treating more countries as it has Ukraine over the past year — may be winning out. The proposal would still need to be approved by NATO defense ministers, Defense Secretary Carter, and the White House, so it is by no means a done deal, but it still shows that concerns over Russian aggression may be reaching a critical point.
Sources