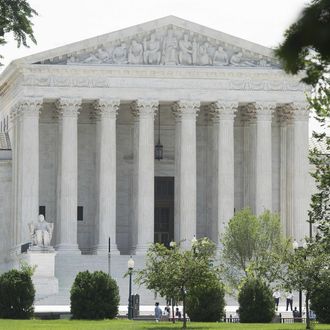 Photo: Jim Watson/AFP/Getty Images
The Supreme Court is packing up for the summer, but it dashed off a few teasers for next season before officially closing up shop. Here's what to expect — and how states are responding to Supreme Court decisions from the past week.
Public-Sector Unions
The Supreme Court agreed to hear Friedrichs v. California Teachers Association, in which ten non-union California teachers and the Christian Educators Association International sued the California Teachers Association over union dues. The plaintiffs argue that union dues — and being forced to opt out rather than opt in of unions — violate the First Amendment by being compelled political speech. Unions argue that their mission is to help all workers in an industry, and those who opt out of being in the union still benefit from its work — and should thus have to pay dues. If the dues are declared unconstitutional — an outcome many advocates fear might happen considering recent Supreme Court decisions on public-sector unions — many of the unions will likely crumble or lose the ability to effectively collectively bargain. In a recent ruling concerning unions, Justice Samuel Alito wrote, "no person in this country may be compelled to subsidize speech by a third party that he or she does not wish to support." An earlier Court precedent from 1977 allowed unions in California and 20 other states to collect dues from non-union workers being represented. Two lower courts rejected the plaintiffs' argument, citing this precedent.
Considering Arizona's Independent Redistricting Commission — Again
The Supreme Court decided on Monday that Arizona's bipartisan redistricting commission is constitutional — now the Court will decide whether the actions of the commission pass legal muster too. Arizona voters complained that districts created in 2012 overpopulated Republican districts — giving the advantage to Democrats. According to the Arizona Capitol Times, "There are currently 13 Democrats in the 30-member Senate and 24 Democrats out of 60 House members. That compares with just nine Senate Democrats and 20 in the House prior to redistricting." A lower court ruled last year that discrepancies in district size appeared to be "primarily a result of good-faith efforts to comply with the Voting Rights Act."
No Moves on Mississippi Abortion Law
The Supreme Court did not issue a ruling on a Mississippi abortion law struck down by a federal appeals court last year. The law is similar to one from Texas that the Supreme Court put on hold on Monday while it waits on an appeal; the law prohibits abortion clinics without admitting privileges at nearby hospitals from operating. If the law were upheld, the last abortion clinic in Mississippi would close, and women would need to go to other states for such services. The federal appeals court said, "A state cannot lean on its sovereign neighbors to provide protection of its citizens' federal constitutional rights." Five states have laws that require abortion providers to have admitting privileges at hospitals. 
Wendy Davis, who filibustered Texas's abortion law before it was passed in 2013, wrote an op-ed about the Supreme Court's decision to temporarily block the closure of additional abortion provides on The Guardian today. "For a few months during the US supreme court's interim," she wrote, "I'll breathe easier for the women of Texas. But come October, I — like so many other women in my state — will be holding my breath yet again."
Affirmative Action Gets Another Look
As Daily Intelligencer noted yesterday, the Supreme Court has decided to look at Fisher v. University of Texas at Austin again after a lower appeals court decided that the university system had a compelling governmental interest to consider race in admissions and that "to deny UT Austin its limited use of race in its search for holistic diversity would hobble the richness of the educational experience."
After Lethal-Injection Drug Is Ruled Constitutional, States Begin Planning Executions
Several states had put executions using the sedative midazolam on hold while waiting to hear whether the Supreme Court would decide it constituted cruel and unusual punishment. A majority of the court decided that midazolam did not violate the Fifth Amendment, because the plaintiffs — several inmates on death row in Oklahoma — did not prove that a safer option existed beyond the drug that caused Clayton Lockett to writhe in pain for more than 40 minutes before dying. Oklahoma and Florida are working on scheduling executions, although it wasn't clear how many doses of the necessary three-drug cocktails used in lethal injections were on hand. Many states with the death penalty have gone years without an execution because of the difficulty of obtaining these drugs; other states have begun considering alternatives to lethal injection, like firing squads.
According to the Associated Press, the next execution in Oklahoma could happen as early as August 5. 
Recalcitrant States Begin Offering Marriage Licenses for Same-Sex Couples
Several states refused to obey the Supreme Court's decision on same-sex marriage last week, but opposition has begun to fade away because of legal necessities. On Monday, Alesia LeBoeuf and Celeste Autin became the first same-sex couple to get a marriage license in Louisiana, a day after Governor Bobby Jindal said on Meet the Press, "We don't have a choice. Our agencies will comply with the court order." He said the state would start issuing licenses as soon as a federal appellate court ordered them to do so — but at least one county clerk just couldn't wait, according to the New York Times. Most counties in Alabama and Mississippi have begun offering licenses for same-sex couples — although a few county clerks had stopped issuing marriage licenses to all couples in protest. Although most leaders and legal authorities in these states have made sure to note that they don't agree with the decision, the law is being abided, for the most part, all the same. Don't expect protest to evaporate, however. Senator Ted Cruz argued on NPR that those who don't agree with the ruling should probably just ignore it.