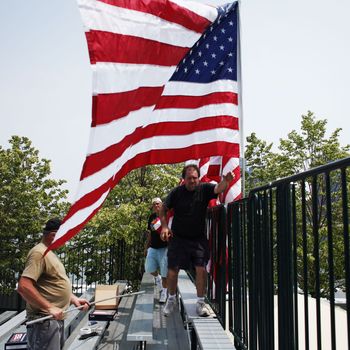 Workers from Elite Productions prepare for Hillary Clinton's presidential campaign launch in Roosevelt Island in New York.
Photo: Kena Betancur/AFP/Getty Images
On Saturday morning, Hillary Clinton will hold the biggest campaign rally since she announced her presidential bid in April, and it's going to be right here in New York. Here's a guide to what she might say and why the event might be taking place on Roosevelt Island.
WHY IS CLINTON COMING TO NEW YORK?
Hillary Clinton may have already kicked off her campaign … at least twice at this point, but she swears it's official this time. Since the Republican Party has kept the media focus on its primary by having a new candidate announce every other day, the Democratic Party has had to keep up by forcing Clinton to announce her campaign every few weeks too.
And since it's New York — the Democrat-heavy city she once served as senator — it's likely she's about to get a very warm reception. And since everyone can't help but talk about her favorability numbers, going back home and having a bunch of people who mostly like you screaming about how great you are is probably good for one's self-esteem and an excellent way to distract the mumbo-jumbo optics-o-meter. After "none of them," Hillary Clinton was the New York politician that residents most wanted to spend New Year's Eve with this year, which is one of the nicer things people in New York have ever said about a politician.
WHERE IS THE SPEECH?
The rally will take place on Roosevelt Island, the little sliver of sort-of suburbia tucked between Queens and Manhattan that is home to 14,000 New Yorkers. More important for Clinton's purposes, it is also home to the Franklin D. Roosevelt Four Freedoms Park — a location that provides not-so-subtle advance Cliffs Notes for what Clinton might say in her remarks. The park is, as you might have already guessed, named after FDR's "Four Freedoms" address, which he gave on January 6, 1941. Roosevelt said that there were "four essential human freedoms" that humanity had a moral obligation to uphold across the world: freedom of speech, freedom from want, freedom of religion, and freedom from fear.
The president also listed a number of things that are a sign of a healthy democracy — a list that looks very familiar if you've listened to Clinton's recent campaign remarks: "Equality of opportunity for youth and for others; Jobs for those who can work; Security for those who need it; The ending of special privilege for the few; The preservation of civil liberties for all."
The park was dedicated only three years ago, 40 years after it was designed. President Bill Clinton spoke at the ceremony. "As all of you famously learned when I served as president, my wife, now the secretary of state, was known to commune with Eleanor on a regular basis," he said. "So she called me last night on her way home from Peru to remind me to say that: That Eleanor had talked to her and reminded her that I should say that."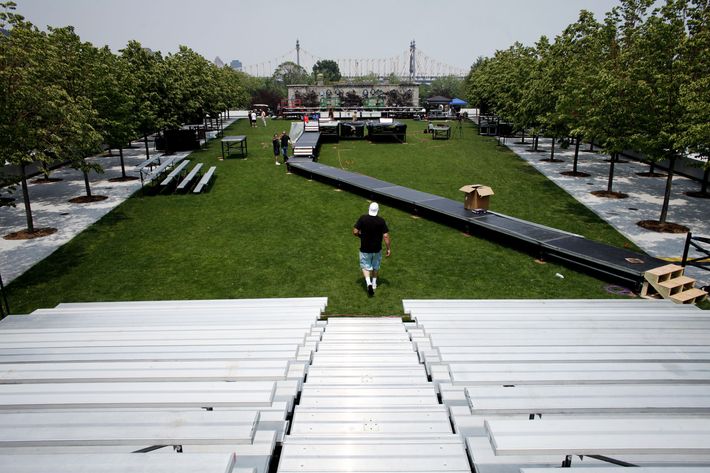 Besides her Eleanor worship, there are also plenty of obvious reasons why Clinton might want to invoke a wealthy president known for trying to help the poor and disadvantaged — a president whom Democratic voters loved for decades. The fact that the park's board members have been generous Clinton supporters probably didn't hurt, either. 
Before the two-mile-long island earned its presidential name in 1971, it was named "Welfare Island," and before that, Blackwell's Island. It was known mostly for hosting a smallpox hospital, an insane asylum — the one Nellie Bly reported in — and a prison. Clinton's rally will actually take place the same time as Roosevelt Island Day, and community leaders are somewhat worried about traffic and turnout — there's only one subway stop on the island, a bridge to Queens, and a tram to Manhattan. There's only one main road, and thousands upon thousands of supporters, reporters, and political types will be rushing onto the island — in many cases, probably for first time. Those planning a trip to Roosevelt Island — there will be an overflow area for those who don't manage to get close enough to the rally — have to prepare for "airport style security," too. And if you haven't bothered to reserve a spot yet, don't bother heading over — unless you're planning to go to the Roosevelt Island Day blood drive. Tickets for the rally went quick.
One resident told the New York Times that reaching Roosevelt Island was like trying to get to "a big farm in Iowa," which makes the location fitting, all things considered.
Besides that, thunderstorms are also forecast for Saturday afternoon. The doors for the rally will open at 9:30 a.m.
There was another event for kids originally planned to take place in Four Freedoms Park before Clinton's event was scheduled. The New York Post reported that news by calling Clinton "tone-deaf" in a headline; the park's president responded to the New York Times by saying, "Obviously, you can't do anything in New York City without making someone unhappy."
WHAT WILL CLINTON SAY?
As noted above, brace yourself for lots of Roosevelt references in the speech, which Clinton and her team have been working on for weeks. Beyond that, here are some things the presidential candidate will definitely address.
1. Lots of Policy Hints (to Entice Progressives)
Glenn Thrush at Politico writes that Saturday's speech will harness all that FDR power by announcing an ambitious agenda:
studded with policy proposals to be unveiled in greater depth in a series of speeches this summer, starting with an ambitious plan to cut student debt and lower tuition and a program to coax corporations into paying their workers more. Clinton's staff believes this is where the campaign will be won or lost—it will signal to voters, and to ideologically driven Obama donors, that she's every bit as committed to their cause as Elizabeth Warren or Bernie Sanders—or the Hillary Clinton of 1993 for that matter.
In other words, don't expect Clinton to reveal too much in her first big speech — this is going to be more like a teaser to keep the type of voters who will vote in the primaries interested. The nitty-gritty policy details will get announced later this summer so they don't bog down all the spectacle.

2. Her Mother
News organizations have also reported that the late Dorothy Rodham will make an appearance in the speech, starring as the catalyst for Clinton's career in public service. Clinton's communications director told Politico, "Her story is wanting to be an advocate for other people. Where does it all come from? That's where it all comes from. We think that's an important thing for people to understand. Some people know it, we think a lot of people don't." 
As Bloomberg Politics notes,
Much of Clinton's focus on Saturday and as she travels next week to Iowa, New Hampshire, South Carolina and Nevada, will be on one important figure in the candidate's life: her mother, Dorothy Rodham, who suffered multiple rounds of "trauma and abandonment" as a child, as Clinton wrote in her 2014 memoir Hard Choices, but experienced enough acts of kindness to persist through the hardships she faced.

"Mom measured her own life by how much she was able to help us and serve others," Clinton wrote, and Rodham taught her daughter: "Never rest on your laurels. Never quit. Never stop working to make the world a better place. That's our unfinished business."
Clinton has been in the public eye for a long time — the speech seems to want to remind voters that Hillary had a life before she was married to the Governor of Arkansas, before she was a senator, before she was secretary of state.
3. "It Is Your Time."
When she isn't trying to connect with voters by revealing personal details, the speech is going to be all about talking about the middle class. Expect to hear a lot about "everyday Americans."
4. Videos and Social Media
For those watching the event remotely, Clinton will have plenty of footnotes on Twitter and elsewhere during her address. 
The campaign is also planning to show a biographical video covering the highlights of her career. (Given all the people who are supposed to be packed on Roosevelt Island, being able to access those tweets on site may be difficult.)
WHO WILL BE THERE?
President Bill Clinton and Chelsea Clinton will both attend the big rally, but aren't expected to speak. Bill de Blasio won't be there — he says he's still waiting to hear more about her thoughts on inequality (since her campaign has signaled that policy specifics will be slowly revealed over the course of the summer, he might have to wait a while). The Republican National Committee's "Stop Hillary" campaign also plans to be in New York on Saturday, and is encouraging protesters to show up too. The RNC released an anti-Hillary ad on Friday to amp up its supporters for the event.
It is not clear whether the RNC's anti-Hillary squirrel also plans to make an appearance.