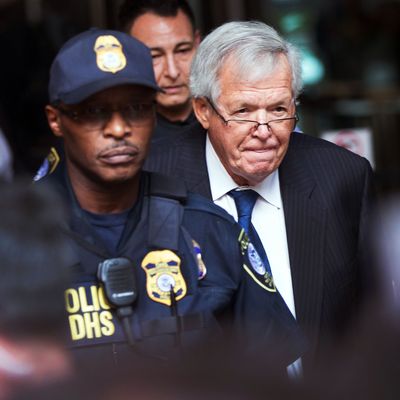 Former Republican Speaker of the House Dennis Hastert leaves the Dirksen Federal Courthouse following his arraignment on June 9, 2015 in Chicago, Illinois.
Photo: Scott Olson/Getty Images
Most weeks, New York Magazine writer-at-large Frank Rich speaks with contributor Alex Carp about the biggest stories in politics and culture. This week, the magazine asked him about the case against former Speaker Dennis Hastert, Lindsey Graham's reception to Caitlyn Jenner, and the Tony Awards.

It now appears that the former House speaker Dennis Hastert sexually abused at least two students during his years (1965–1981) as a teacher and wrestling coach in the farm town of Yorkville, Illinois: "Individual A," whom he tried to silence with $3.5 million in hush money according to the indictment that brought this story into the open, and Steve Reinboldt, who died of AIDS in 1995 and whose story was told by his younger sister to ABC News. As the circle widens, what's the chance that some of Hastert's congressional colleagues have knowledge of a cover-up — beyond scant rumors — and that one will eventually come forward?
We are talking about two potential cover-ups here. One may involve Hastert's own actions: Did colleagues know about his past and look the other way? One former congressman, Mel Watt of North Carolina, has suggested as much. But the more important cover-up involves the House of Representatives as an institution. Did some of the Congressional leadership during Hastert's reign behave as odiously (and perhaps as illegally) as the hierarchies of the Catholic Church and Penn State when confronted with a perpetrator of sexual abuse in their own ranks?
The latter case centers on Mark Foley, the former Florida congressman who resigned in the fall of 2006 after the exposure of predatory, sexually explicit emails and instant messages he sent to male congressional pages. Foley was said to have trolled pages inappropriately as far back as 1995. After the scandal became public, both journalists and House Ethics Committee investigators found that Hastert, the longest serving Republican Speaker of the House in the chamber's history, had remained "willfully ignorant" (as the Ethics report had it) about repeated reports of Foley's transgressions. Indeed, Coach Hastert seems to have adopted a see-no-evil defense akin to Coach Joe Paterno's. But unlike Paterno, he was able to slip away quietly, departing Congress after Foley's exit. Writing about the case in Vanity Fair in 2007, Gail Sheehy quoted a source who accused Hastert of having "attempted a cover-up" of his dereliction of duty in the Foley case — a cover-up that involved coordination with John Boehner (then the majority leader), Roy Blunt (then majority whip, now a senator), and Thomas Reynolds (a New York congressman who also slinked away into retirement in the scandal's aftermath). If the church and Penn State could finally clean house, surely the House of Representatives must do the same. Whether it does or not, a press exhumation of this case may well come to haunt the 2016 election.
Unlike some other conservatives, Lindsey Graham, now officially a presidential candidate, has welcomed Caitlyn Jenner (and invited her to join the GOP!) with relative grace. Are you surprised by his comments?
Not quite as surprised as I am by Graham's candidacy itself. It's hard to know his rationale for running since his only distinctive policy priority seems to be to gin up all-out war with Iran, a non-starter with most voters, and his only political distinction is his potential status as the first bachelor on a presidential ticket since the 19th century, a non-starter in the family values party. (He has explained that he will fill the family gap by having a "rotating First Lady" in the White House, though given that he's proposed only one woman for this role, his sister, maybe he means "rotating" like on a rotisserie.) By welcoming Caitlyn Jenner to the GOP — a distinction he shares only with George Pataki in his party's field — Graham would seem to be further aspiring to rock bottom of the Republican primary pack. The default conservative line on Jenner is to view her as an avatar for yet another liberal media conspiracy to normalize "really marginal behavior" (as Rush Limbaugh put it) and to erode the religious freedom of America's persecuted Christian majority.
After the Diane Sawyer interview, the prevailing joke had it that the real scoop was not that the then-Bruce Jenner came out as transgender but as a Republican. Asked by Sawyer if she would advocate for LGBT rights to John Boehner and Mitch McConnell, Jenner responded, "In a heartbeat, why not? And I think they'd be very receptive to it." What if Caitlyn Jenner followed through? That would immediately elevate the GOP primary contest in both substance and drama (and, just possibly, farce).
After television's recent up-and-down results with live musicals, the Tonys brought the real thing. How'd they do?
If you are judging solely by the numbers, the Tonys were a disaster: an audience of 6.35 million viewers (down from 7.05 million last year) for CBS as opposed to the audiences NBC drew for its live presentations of The Sound of Music (nearly 22 million) and Peter Pan (9.2 million). But if you are judging by the amount of embarrassing showbiz kitsch per square inch, the Tonys more than delivered. The big innovation this year was supposed to be the fashion intervention of Anna Wintour, who took control of the wardrobes of the Broadway celebrities (or semi-celebrities) so that they wouldn't look as if they'd just stepped out of a community theater production of The Merry Wives of Windsor. But even she lacked the power to stop Alan Cumming, who co-hosted the ceremony with Kristin Chenoweth, from appearing in shorts for the first span of the evening. Cumming apparently was operating under the delusion that he was being stylish and youthful as opposed to tedious and middle-aged.
The show had a few honestly good moments, particularly toward the end. Larry David was a hilarious presenter, taking the opportunity to blame anti-Semitism for the failure of his own play, Fish in the Dark, to secure a single Tony nomination. Michael Cerveris was modest and direct in accepting his award for his performance in Fun Home. And Kelli O'Hara, the least divalike of Broadway divas, was touching both in her irresistible duet with Ken Watanabe in "Shall We Dance?" from The King and I and in her giddy yet human-scaled response to her Tony win. She was a much-needed antidote to Helen Mirren, who had kicked off the evening with a cold, over-rehearsed, personality-free reaction to her own victory.
But tastelessness was the biggest Tony victor, as usual. A teacher named Corey Mitchell was presented with some sort of award for theatrical education but no one paid him the honor of telling the audience who he was, what he did to earn his Tony, or even where he taught. An appearance by Josh Groban, incessantly promoted all evening, turned out to consist of a mediocre rendition of "You'll Never Walk Alone," in which the close-up shots of his pious warbling were allowed to upstage the luminaries ostensibly being saluted in the "In Memoriam" section. R.I.P. indeed.