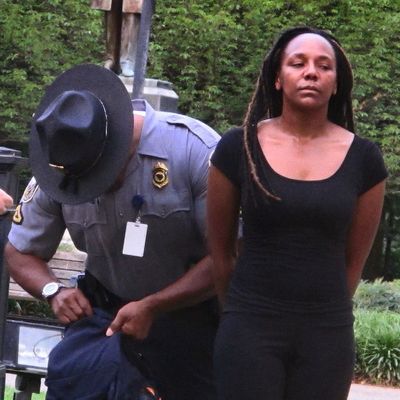 Bree Newsome being arrested on Saturday.
Photo: Bruce Smith/Corbis
As was announced last week, South Carolina's legislature won't make a decision on whether to remove the Confederate flag from the grounds of the State Capitol until later this summer. So on Saturday, a woman named Bree Newsome took the matter into her own hands by scaling the pole from which the flag hangs and unhooking it while quoting scripture.
Newsome was immediately arrested and charged with defacing a monument, as was a friend, James Ian Tyson, who helped her carry out her act of civil disobedience. (The flag was quickly replaced.) "We removed the flag today because we can't wait any longer. We can't continue like this another day. It's time for a new chapter where we are sincere about dismantling white supremacy and building toward true racial justice and equality," said Newsome in a pre-written statement released as she was taken into custody.
On Monday, Newsome put out a much longer statement via the Blue Nation Review. In it, she wrote about how she decided to remove the flag:
The night of the Charleston Massacre, I had a crisis of faith. The people who gathered for Bible study in Emmanuel AME Church that night—Cynthia Marie Graham Hurd, Susie Jackson, Ethel Lee Lance, Depayne Middleton-Doctor, Tywanza Sanders, Daniel Simmons, Sharonda Coleman-Singleton, Myra Thompson and Rev. Clementa Pinckney (rest in peace)—were only doing what Christians are called to do when anyone knocks on the door of the church: invite them into fellowship and worship.

The day after the massacre I was asked what the next step was and I said I didn't know. We've been here before and here we are again: black people slain simply for being black; an attack on the black church as a place of spiritual refuge and community organization.
Newsome then met with "a small group of concerned citizens, both black and white, who represented various walks of life, spiritual beliefs, gender identities and sexual orientations."
We discussed it and decided to remove the flag immediately, both as an act of civil disobedience and as a demonstration of the power people have when we work together. Achieving this would require many roles, including someone who must volunteer to scale the pole and remove the flag. It was decided that this role should go to a black woman and that a white man should be the one to help her over the fence as a sign that our alliance transcended both racial and gender divides. We made this decision because for us, this is not simply about a flag, but rather it is about abolishing the spirit of hatred and oppression in all its forms.

I removed the flag not only in defiance of those who enslaved my ancestors in the southern United States, but also in defiance of the oppression that continues against black people globally in 2015, including the ongoing ethnic cleansing in the Dominican Republic. I did it in solidarity with the South African students who toppled a statue of the white supremacist, colonialist Cecil Rhodes. I did it for all the fierce black women on the front lines of the movement and for all the little black girls who are watching us. I did it because I am free.
The whole thing can (and should) be read here. As you can probably tell, Newsome's had some experience with this sort of thing. Here's some of what we know about her life and career:
The Basics
The 30-year-old (full name: Brittany Ann Byuarim Newsome) is a Maryland native who currently lives in Charlotte, North Carolina. (Her father, Clarence G. Newsome, served as a dean at Howard University before becoming president of the National Underground Railroad Freedom Center, a Cincinnati museum focused on slavery.) In addition to being an activist, Newsome (a graduate of NYU's Tisch School of the Arts) is a musician and filmmaker. She also has a big Twitter following.
Her Work
In 2010, she made a 20-minute movie, Wake, which won best short film at the BET Urban World Film Festival and led to a gig as the advertising agency Saatchi & Saatchi's first artist-in-residence:
In 2012, she released "Shake It Like an Etch-A-Sketch," a widely viewed satirical rap video about Mitt Romney:
According to the Washington Post, Newsome committed herself more fully to social-justice causes in 2013:
Her first activism arrest, in July 2013, was for staging a sit-in at the office of now-Sen. Thom Tillis (R-N.C.). She demanded to speak to Tillis, who was supporting a bill that ended same-day voter registration and declared student-IDs an invalid form of voter identification.

The bill passed, and Newsome began calling herself an activist.
Here she is discussing that experience with the Levine Museum of the New South:
I believe strongly in democracy so any attempt to limit voting rights highly offends my sensibilities. Also, the Supreme Court's gutting of the Voting Rights Act and the NC legislature's voter suppression laws coincided with the Trayvon Martin case. The acquittal of George Zimmerman in combination with the attack on voting rights shook my consciousness. Whatever progress had been made since the civil rights movement of the '60s seemed to be quickly rolling backwards and I felt that I had perhaps taken my rights for granted.

The other reason I felt it necessary to participate in that particular protest was because it was apparent to me that the legislator was attempting to pass this odious voter suppression bill under the radar of the public and national media. At that time, the US Attorney General's office had announced it would examine voter ID laws in Texas but North Carolina was largely being overlooked by the nation. It was necessary to draw attention to what was happening in our state.
A song Newsome wrote about her voting-rights work can be found here. And just for good measure, here she is covering "Crazy in Love" with her band, Powerhouse:
The Status of Her Case
Newsome (and Tyson) have been released from jail on $3,000 bond. The charge against them, a misdemeanor, carries the penalty of up to three years in prison and/or a $5,000 fine. Their trial is set for July 27. As of Monday afternoon, an online fund-raiser to help with Newsome's legal fees had raised over $114,000. They're being represented by Todd Rutherford, a lawyer who also happens to serve as a Democratic representative in South Carolina's General Assembly.