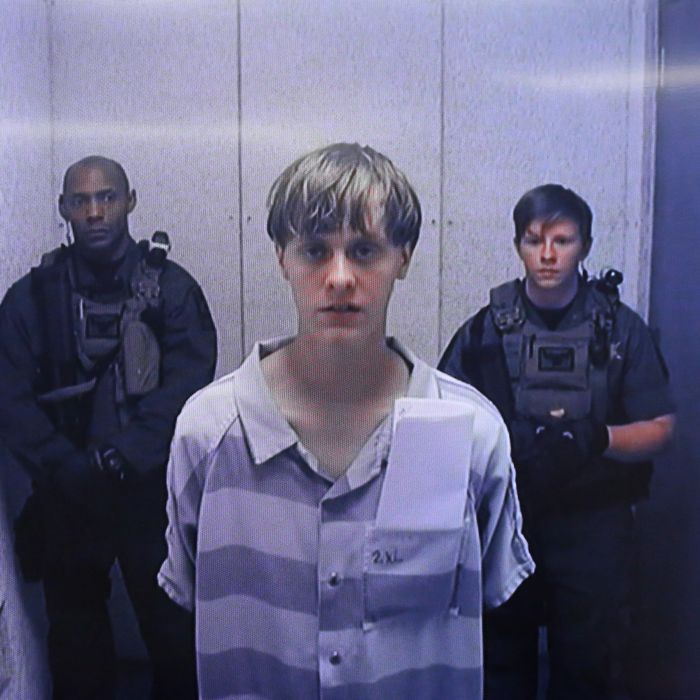 In this image from the video uplink from the detention center to the courtroom, Dylann Roof appears at Centralized Bond Hearing Court June 19, 2015 in North Charleston, South Carolina.
Photo: Grace Beahm-Pool/Getty Images/2015 Getty Images
Last week Dylann Roof, 21, was charged with nine counts of murder for the shooting at Emanuel AME Church in Charleston, South Carolina. Many feel that the crime is so horrific and clearly racially motivated — Roof reportedly told one of the nine black victims, "You are raping our women and taking over the country" — that he should be charged with a hate crime or even terrorism, but bringing those charges is complicated. While Charleston police chief Greg Mullen said the attack was a "hate crime" just hours after the shooting, South Carolina is one of only five states with no hate-crime laws. One South Carolina lawmaker is renewing his effort to have such a law passed in the state, but in the meantime if Roof is accused of harsher crimes, those charges will come from the federal government.
In a statement last week, the Justice Department said, "This heartbreaking episode was undoubtedly designed to strike fear and terror into this community, and the department is looking at this crime from all angles, including as a hate crime and as an act of domestic terrorism." On Wednesday sources told the New York Times that the department is likely to file federal hate-crime charges against Roof, particularly because FBI analysts have confirmed that the racist online manifesto discovered over the weekend was written by Roof. Plus, he's has already been assigned two federal public defenders. "I'd be surprised if they didn't," South Carolina prosecutor Scarlett Wilson, who is handling the case, said of the federal charges. "They have been involved from the start, and they have been very helpful."
Usually state and federal prosecutors will coordinate, and one may hold back so their cases don't conflict. It's unclear how this situation will play out because Roof could face the death penalty if convicted of murder in South Carolina, while the maximum penalty for a federal hate-crime charge is life in prison. Governor Nikki Haley said South Carolinians "absolutely want" the death penalty for Roof, and that's easier to achieve if Roof is prosecuted in a state court. On the other hand, "There are Justice Department officials who may say, 'You know what, South Carolina, this is not just a murder, this is a hate crime," Alex Little, a lawyer and former assistant U.S. attorney, told Vox. "You as a state have chosen not to prohibit hate crimes in a special category; we as the federal government believe that's the message we need to send with this prosecution." 
Federal prosecutors could find a way to pursue the death penalty for Roof, but it's a more complicated process, and they'd have to prove he's guilty of an additional federal charge. (Vox suggests a "'crime of violence' committed with a firearm that includes a murder.") It's also possible that Roof will be tried at both the state and federal level, as in the case of Oklahoma City bombing conspirator Terry Nichols (he argued that constituted double jeopardy, but the Supreme Court refused to take up his appeal).
Federal terrorism charges haven't been ruled out. "Both hate crime and domestic terrorism investigations afford investigators the same set of tools and techniques," FBI spokesman Paul Bresson told MSNBC on Wednesday. "Any eventual federal charges will be determined by the facts at the conclusion of the investigation, and are not influenced by how the investigation is initially opened."
However, while many believe Roof should be called a terrorist, that path looks less likely. "Terrorism is [an] act of violence … to try to influence a public body or citizenry, so it's more of a political act. And again, based on what I know so far, I don't see it as a political act," FBI director James Comey told reporters on Saturday. "Doesn't make it any less horrific, the label, but terrorism has a definition under federal law."
As CBS News reports, the line between hates crimes and domestic terrorism is blurry:
According to the University of Nebraska's [professor Pete] Simi, the way we define terrorism - selecting a target based on ideology and motive, to terrorize a community - is very similar to how we describe a hate crime. But, he says, hate crimes - which are typically defined as a traditional crime plus bias - tend to be more spontaneous. They are often committed by younger people, people who are intoxicated, and those who can sometimes be described as thrill-seekers. Terrorists, on the other hand, plan their attacks, as Roof allegedly did.
But ultimately it's up to the federal government. "The FBI has exclusive jurisdiction to investigate acts of terror in the U.S.," Professor Brent Smith, the director of the Terrorism Research Center at the University of Arkansas, told CBS. "If the FBI labels it as terrorism, it is terrorism. If they don't, it isn't."