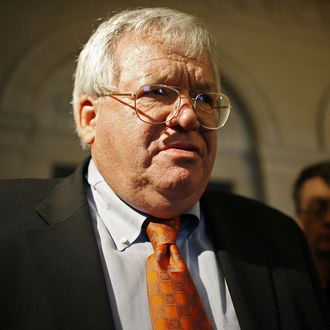 Photo: Chip Somodevilla/Getty Images
Jolene Reinboldt first tried to tell ABC News that Denny Hastert sexually abused her brother Steve in 2006. The Speaker of the House denied the allegations, and ABC News was unable to prove it was true. Now, nearly a decade later and after the Justice Department made similar allegations involving a different person, Jolene made her accusation on national television. 
"I feel vindicated and that Steve's vindicated, that Mr. Hastert can't pull this wool over everybody's eyes," she said. "Finally the truth comes out." She does not know who the "Individual A" mentioned in the Justice Department indictment is.
Her brother first told Jolene he was gay in 1979, eight years after he graduated from Yorktown High. He also told her his first sexual experience happened with Hastert. Steve Reinboldt died from AIDS in 1995, and Hastert attended his funeral. Jolene walked up to him and said, "I want you to know your secret didn't die in there with my brother. And I want you to remember that I'm out here and that I know."
Steve was a team student manager on the wrestling team Hastert coached.
Two weeks ago, Jolene received a call from the FBI about Hastert. "That's when I just kind of lost it and said, 'Oh my God, I can't believe — I never thought I was going to get this phone call," she said. "I thought it was over."
Hastert first appears in court next week. In the week since the charges first dropped, his name has quickly disappeared from many places it used to be affiliated with. His law firm, Dickstein Shapiro, has taken mentions of its high-profile lobbyist out of press releases. His alma mater, Wheaton College, stripped his name from its Center for Economics, Government, and Public Policy. The Dennis Hastert Yorkville Invitational is likely going to acquire a new name soon. 
Hastert has not responded to the indictment or any other allegations.