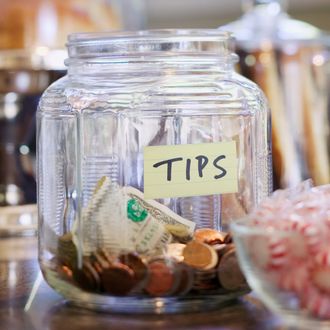 Photo: Rick Gayle Studio/Corbis
2016 presidential candidates have finally revealed how many people are giving them money so far — and where they've decided to spend it. As you might have expected, Hillary Clinton is in the lead, Senator Bernie Sanders has raised more small donations than anyone else (and Jeb Bush raised hardly any money from small donors), Republican candidates' super PACs are significantly outpacing their traditional fund-raising, and hardly anyone wanted to give Lincoln Chaffee or George Pataki any money.
Hillary Clinton received donations from a bunch of celebrities — Leonardo DiCaprio, Reese Witherspoon, and Ben Affleck — and Chuck Norris managed to find one Republican candidate he likes above all others: Mike Huckabee. Danny DeVito gave money to Martin O'Malley, and Bobby Jindal received financial support from Duck Dynasty stars. Sixty-three people actually gave more than $250 to Donald Trump — who bragged earlier this week that he was worth more than "TEN BILLION DOLLARS." One donor joked to the Daily Beast that he "was probably drunk" when he made the donation. 
And what have the candidates done with all that money? This early in the race, money mostly goes into staffing up in the first primary states, an endless number of meet-and-greets, and spending money to raise money. Clinton has spent about 40 percent of her haul — and she still has more money on hand than any other candidate. 
Traveling around the country constantly for months leads to some deliciously weird purchases, too. Listed out of context on a Federal Election Commission form, this campaign spending would work well as a writing prompt in a freshman writing seminar. Why did Mike Huckabee spend $2,657.81 at Mattress Firm, and what did "Tim the Balloonman" do with the $100 Ben Carson gave him? Why did Senator Marco Rubio list a 43-cent expense? (And in 2015, what can you actually buy for 43 cents?) Was the $6 that the Donald Trump campaign spent at Beignet Done That in Davenport, Iowa, well spent? What does $3,000 buy at Possum Holler Catering? Did the Bernie Sanders campaign buy smoothies or more at Minnesota Smoothie & More — and how nice is the office furniture his campaign bought on Craigslist?