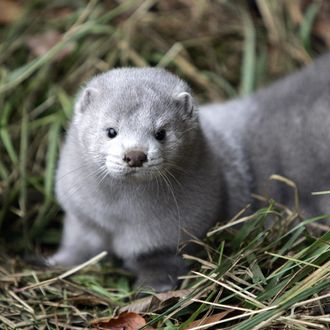 Photo: Jens Schlueter/AFP/Getty Images
The FBI's Joint Terrorism Task Force has arrested two animal-rights activists after they spent half a year driving 40,000 miles around the U.S., raiding fur farms, and releasing about 5,740 mink into the wild. According to the Associated Press, in addition to freeing the mink (and one bobcat), Joseph Buddenberg, 31, and Nicole Kissane, 28, allegedly slashed tires, smashed windows, glued door locks, vandalized businesses using caustic acid, and even tried to flood a fur industry employee's home. The Oakland natives evaded capture by avoiding cell phones, using encrypted email via public computers, and paying for everything in cash while on their road trips. They did, however, detail their exploits on animal-rights websites. U.S. Attorney Laura Duffy claims the pair caused hundreds of thousands of dollars in damage, and said in a statement, "The conduct alleged here, sneaking around at night, stealing property and vandalizing homes and businesses with acid, glue, and chemicals, is a form of domestic terrorism and can't be permitted to continue." The duo, if convicted, could face up to 10 years in prison and $250,000 fines.
That number — 5,740 — may seem like a lot of mink, but according to the latest numbers from the USDA, U.S. mink furriers can produce as many as 3.5 million pelts a year, which are worth nearly $200 million. Nonetheless, freeing mink from fur farms seems to be a regular tactic for some within the animal-rights community, including in even larger numbers, though this newly arrested pair is accused of committing a much broader array of crimes. Fur farmers have long maintained that freed mink face a much crueler fate adapting to nature than living out their lives in the farms, a conclusion activists seem to consider propaganda.