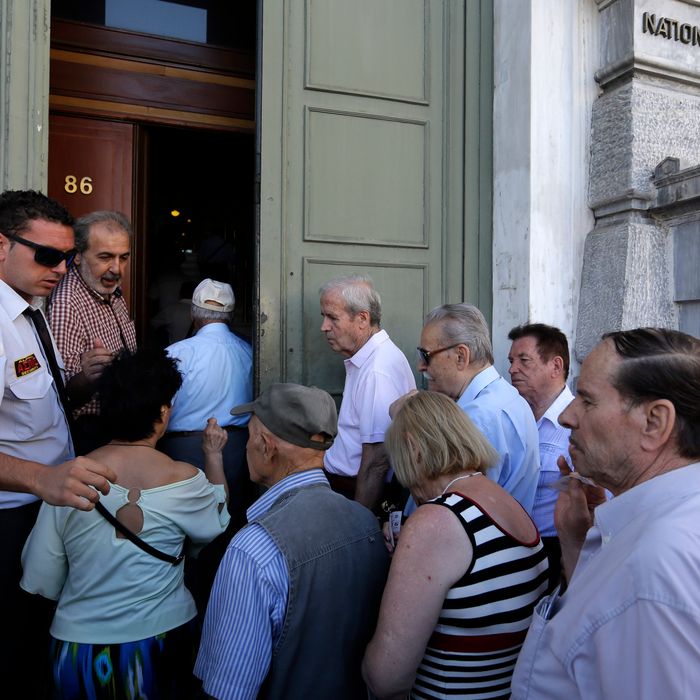 The first customers, most of them pensioners, enter a branch at the National Bank of Greece headquarters in Athens, Monday, July 20, 2015.
Photo: Thanassis Stavrakis/AP/Corbis
Several weeks ago, before European leaders reached a deal on the Greek debt crisis, June 20 was the day when many predicted the troubled nation would miss a payment to the European Central Bank and be forced to go off the euro. Instead, the European Union provided a €7.2 billion bridge loan to cover the payment, and on Monday at 8 a.m. Greek banks reopened for the first time in three weeks.
Reuters reports Greeks were lined up outside many branches in Athens, though the restrictions on their transactions remain. Greeks can still only withdraw €60 per day, but now that number accumulates every day, so they only visit the bank once per week and they can take out €420. Checks can be deposited, but not cashed, and there are also restrictions on opening new accounts and withdrawing foreign money.
The decree to reopen the banks came from Greece's new cabinet on Saturday. Prime Minister Alexis Tsipras replaced five members of his left-wing Syriza party who refused to support his push for new austerity measures, which Greece had to pass in order to receive a new bailout from other European nations.
As a result of the deal accepted by parliament, on Monday Greeks saw the VAT increase from 13 percent to 23 percent on many food and personal products — ranging from coffee to salt to condoms — as well as services including restaurants and cafés. A state of emergency was declared in parts of the country on Friday after more than 50 fires were set in what authorities suspect were protests against the terms of the deal. The details of the agreement have yet to be worked out, and the Greek parliament is expected to pass more austerity measures later this week.