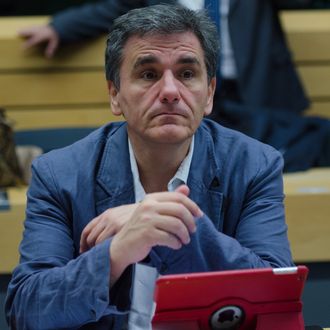 Greek Finance Minister Euclid Tsakalotos during the meeting of Eurogroup Finance Ministers in Brussels on July 12, 2015.
Photo: Jonathan Raa/Pacific Press/LightRocket via Getty Images
Many deadlines have been missed in the ongoing Greek debt crisis, but after EU nations scheduled various meetings for this weekend, they declared that by Monday we would know whether Greece will continue using the euro. "Until now I have avoided talking about deadlines, but tonight I have to say loud and clear that the final deadline ends this week," European Council president Donald Tusk said on Tuesday. Yet, just after dawn on Monday, negotiators were still trying to work out a deal that would keep Greece in the eurozone.
The talks in Brussels between eurozone leaders are heading into their third day, and several officials told the AP that there are still massive disagreements between the 19 nations. The other eurozone nations appear to be pushing Greece to accept tough austerity measures (even stricter than those Greek voters rejected earlier this month), which would need to be pushed through Greece's parliament by Wednesday as a show of good faith. Leaked drafts also described plans to have Greece make a temporary exit from the eurozone, and privatize assets worth up to €50 billion ($55 billion), with the proceeds going toward paying off its debt.
When he arrived in Brussels, French president François Hollande said he intended to "do everything to find an agreement" because if EU leaders fail to prevent a "Grexit" during this final round of negotiations, it would "mean a Europe that is in retreat, a Europe that no longer moves forward." But German chancellor Angela Merkel presented a far less optimistic view, ruling out "agreement at any price." "The most important currency has been lost — and that is trust," she said.