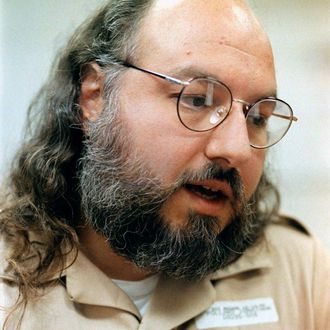 Photo: Karl DeBlaker/AP/Corbis
The American government plans to release Jonathan Pollard on parole this November. Pollard, a 60-year-old former Navy intelligence analyst, is currently serving a life sentence for passing (or, as many contend, selling) suitcases full of highly classified documents to Israel operatives. Pollard has spent nearly 30 years in prison; he was arrested in 1985 and jailed in 1987.
At the time, federal prosecutors said the "breadth and volume of the U.S. classified information sold by defendant to Israel was enormous, as great as in any reported case involving espionage on behalf of any foreign nation." The Hill notes that Pollard "is the only American ever sentenced to life in prison for spying on behalf of a U.S. ally."
According to the Wall Street Journal, the federal parole panel's decision was unanimous. Unless President Obama grants Pollard clemency before November 21, he will have to remain in the U.S. for the next five years, per the terms of his parole. If he remains in the U.S., his lawyers have said he will likely move from his prison in North Carolina to the New York area. The November date for Pollard's parole has been set for a long time — long before Israel and U.S. relations went chilly because of the Iran deal. If the U.S. had opposed his release because of national security reasons, however, he could have remained incarcerated. 
"It would have been extremely far-thinking of people 30 years ago to sentence Mr. Pollard and set this mandatory release date to coincide with the Iran deal," Attorney General Loretta Lynch said when asked of the timing of Pollard's scheduled release this weekend. "And if they were able to pull that off I would be quite impressed,"
The Israeli government has long advocated for Pollard's freedom. According to the WSJ, some American officials think that releasing him would improve the United States' relationship with Israel.
This isn't the first time the possibility of Pollard's release has been suggested as a way to placate Israel, though American military and intelligence officials have always opposed the idea. When asked about the matter last year, President Obama said, "I have no plans for releasing Jonathan Pollard immediately but what I am going to be doing is to make sure that he, like every other American who's been sentenced, is accorded the same kinds of review and the same examination of the equities that any other individual would provide."