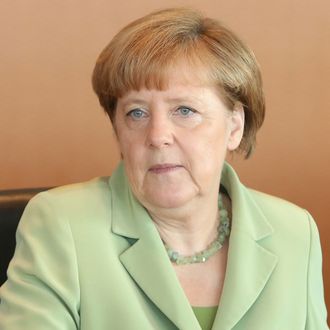 Photo: Adam Berry/Getty Images
Things got awkward when Angela Merkel met with a group of teens in a school gym yesterday. During a Q&A session with the German chancellor, a young Palestinian refugee named Reem shared with Merkel her concerns that her family, which immigrated to Germany from a Lebanese refugee camp four years ago, would soon be deported.
Merkel responded by explaining that Germany has limits when it comes to refugees ("politics is hard sometimes"), but stopped in alarm ("oh Gott") when she saw that Reem was crying. "I know that this is a trying situation for her, but I just want to give her a hug," Merkel said, stroking Reem's shoulder and looking uncomfortable.
Germany is facing a huge inundation of refugees — more than 450,000 have already applied for asylum this year. But try explaining that to a sobbing child.