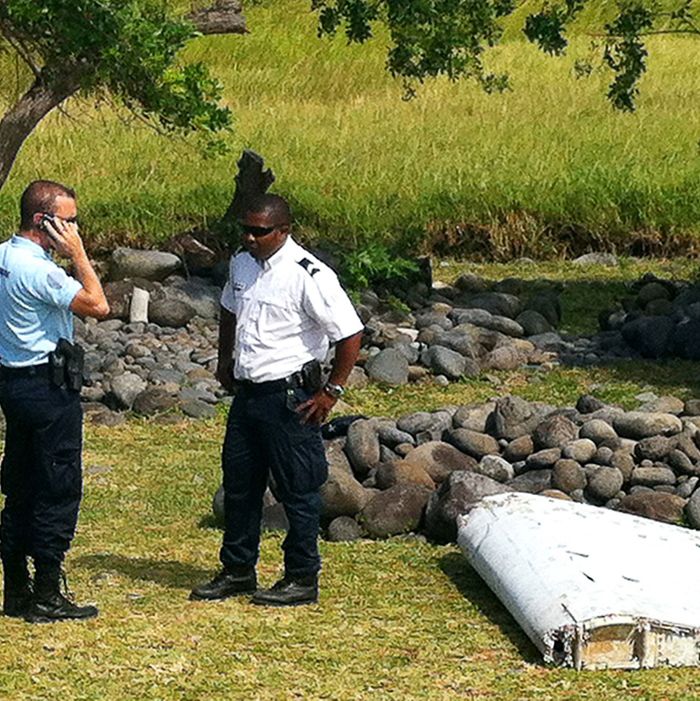 A piece of apparent airplane debris found off Reunion Island in the Indian Ocean.
Photo: Yannick Pitou/AFP/Getty Images
Airplane debris found off the coast of La Reunión Island in the Indian Ocean — possibly from the missing Malaysia Airlines Flight 370 plane — is reportedly being sent to a lab in Toulouse, France, for testing. Bureau d'Enquêtes et d'Analyses, France's accident investigation agency, will be in charge of the investigation since the wreckage was found off the coast of a French territory. 
Initial reports have indicated that the debris, found earlier today on the island east of Madagascar, is a wing flap and has been in the water for a long time. Australian deputy prime minister Warren Truss said the debris is "not inconsistent with a Boeing 777," though he cautioned that "there are other possibilities." He added, "Clearly, we are treating this as a major lead."
The remains of a suitcase were also reportedly found on the cost of La Reunión. Authorities don't know where the tattered luggage came from.
Adjutant Christian Retournat said that the debris had been taken onto the island, a French department located about 380 nautical miles east of Madagascar and more than 3,800 miles from where the plane was last seen. A French TV station reported that the debris was found by workers cleaning a beach, who in turn alerted authorities. According to The Guardian, the two-meter piece found had a reference number on it, which should help officials determine whether it belonged to the Malaysia Airlines plane that disappeared on March 8 of last year. CNN spoke to a source on Thursday who are almost sure that the reference numbers on the debris showed the aircraft was a Boeing 777, although nothing has been officially confirmed yet. No other Boeing 777s are unaccounted for. 
Malaysian Prime Minister Najib Razak wrote on his blog, "Initial reports suggest that the debris is very likely to be from a Boeing 777, but we need to verify whether it is from flight MH370. At this stage it is too early to speculate," according to the Financial Times. 
The search for MH370 has been the most expensive in the history of flight — about $150 million so far.
Jacquita Gomes, whose husband was on the plane, told the AP that she doesn't know how to feel about the discovery. "One part of me, I want it to be true," Gomes said, "so I can put my husband Patrick to rest. It's been one year, I want him to be at peace." She added, "The other part of me, I don't want it to be true, so there is hope for good news. You know, there has been news that people are released after being kidnapped for one year, so there can always be hope for good news if this is not real."
This post has been updated throughout.