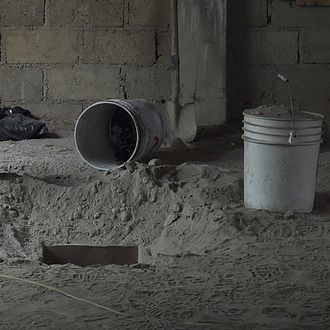 Photo: Yuri Cortez/AFP/Getty Images
Every day, Mexican authorities unearth new fantastical details about the prison escape of Joaquín Guzmán, better known as "El Chapo," or "Shorty." Today, it became clear that wildlife may have been enlisted to help the Sinaloa Cartel boss escape after only 16 months in prison.
The Mexican newspaper Reforma reported that a dead sparrow was found in a trash can in El Chapo's prison cell. Authorities believe the bird acted as his canary in a coal mine, testing air quality before El Chapo descended through the bottom of his shower into the well-lit, mile-long tunnel complete with a specially made motorcycle that runs on rails. Officials released security footage of the escape yesterday. Before leaving, El Chapo turned up the volume on a small TV in his cell to mask any noise he might make while leaving. Like his fellow prison escapees in upstate New York, he was further helped by loud construction that took place during the time his helpers were building the massive tunnel. 
According to another Mexican newspaper, a small, empty nest was found in the window of the cell. Authorities have nicknamed the deceased bird "Chapito."