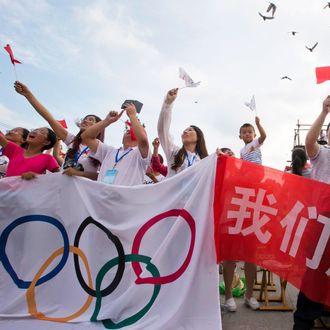 Photo: Ng Han Guan/Corbis
The International Olympic Committee decided to give Beijing another chance to host an international sporting bonanza in 2022, making the Chinese city the first to host both a Summer and Winter Olympics.
In 2008, Beijing hosted the Summer Olympics; in 2022, it will try its hand at the Winter version. "Summer or Winter Games, they all represent the Olympic ideals," former basketball star Yao Ming told reporters shortly before the choice was made. "It's the right time, the perfect time, for the Olympics to return to Beijing."
Almaty, Kazakhstan, was the other city hoping to host; the final vote was close: 44–40. As Boston's unsuccessful bid for the 2026 Summer Olympics proved, authoritarian governments less accountable to voters and the public have been far more successful in pitching the IOC lately. Oslo and Stockholm pulled out of the 2022 race, citing political and financial worries. 
Some of the events will take place at venues familiar from 2008, like the Bird's Nest stadium. Some of the new, winter-specific venues will need to be built far away from the city, although China said it hopes to build a high-speed rail to connect them. 
Organizers will have to get ready to make lots of snow in an area that has been suffering from droughts and bad air quality … since there is little snow anywhere near Beijing. Almaty, which has plenty of snow, chose to highlight that fact with the campaign slogan "Keeping it real."
Xu Jicheng, who does press for Beijing's bid, told CNN, "Technically the pollution has been reduced and controlled, we have seven more years to go and it will be sunshine and white clouds." China also promised to do everything right when it comes to human rights if it were chosen as host. "If we could win the bid of Beijing 2022, we will faithfully and strictly follow the rules and regulations set forth by the IOC in terms of human rights protections," Wang Hui, the Beijing Bid Committee's deputy secretary, told the BBC, which was followed after it went to inspect a ski resort.
China also hasn't been as successful at Winter Olympic events as it has in the summer renditions. Time magazine hypothesized in 2014:
Conquest at the Winter Games, though, isn't quite as ego-boosting because the traditional powerhouses are nations like Norway. Besting the likes of Canada or the Netherlands doesn't quite fit into the narrative of Great Power competition. "What's the point of winning?" wondered one Weibo user. "All it means is that the taxpayers will have spent a lot of money to raise a group of expensive athletes. Is it really necessary?"
However, China has also invested about $30 million in a program to "prioritize the development of less-popular winter events" like luge and bobsled, according to China Daily. Liu Peng, president of the Chinese Olympic Committee, told The Guardian, "Twenty years ago China had less than 10 ski resorts. We now have more than 500."
According to The Wall Street Journal, "Chinese social media users are surprisingly calm … On China's Weibo microblogs, 'Beijing Olympic bid' is bested by trending topics including a Chinese variety show and Korean pop star Rain." Beijing's mayor claimed that residents were far more excited — and that 92 percent had supported the bid.