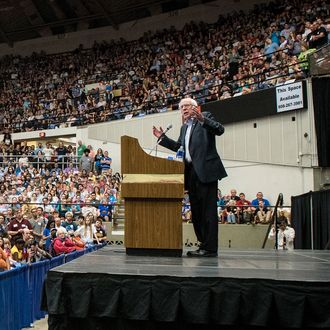 Photo: Christopher Dilts/Bloomberg Finance LP/Getty Images
Senator Bernie Sanders held a rally at the Veterans Memorial Coliseum in Madison, Wisconsin, on Wednesday, and you would have thought he was Beyoncé or One Direction by the size of the crowd and the utterly overwhelmed and excited faces in it.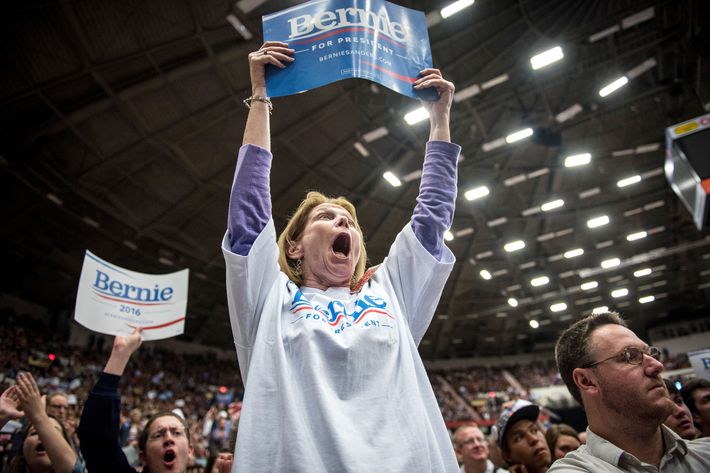 The arena seats just over 10,000, and it was nearly filled to the brim with around 9,600 people.
"In case you haven't noticed," he said, "there are a lot of people here." He added, "Tonight we have made history. Tonight we have more people at a meeting for a candidate for president of the United States than any other candidates have."
The only crowd that has been larger attended Senator Ted Cruz's presidential announcement at Liberty University, according to MSNBC. Attendance was mandatory at that event, and around 11,000 people showed up.
Sanders has been drawing big crowds throughout the country while campaigning from the presidency. A few weeks ago, he said he was "stunned" by a crowd of about 5,000 in Minneapolis. "If you were to ask me a couple of months ago whether we would have larger crowds than any other candidate out there, I would not have told you that that would be the case," he noted another time.
Hillary Clinton, who has a big lead in the Democratic primary polls and doesn't have to worry too much about name recognition, hasn't focused much on throwing big rallies. Politico called Sanders's succession of headline-grabbing rallies the "big crowd" strategy. 
The big-crowd strategy is a familiar one for liberal insurgents like Sanders. In 2007, Barack Obama was way down in the polls but got tens of thousands of people at rallies in Austin, Oakland, Atlanta and New York City. Howard Dean, the last Vermonter to run for president, also earned attention for his Sleepless Summer tour in 2003 — a 10-city trip that drew huge crowds in liberal hubs such as Portland, Oregon; Seattle; New York City; and Chicago.

"It's a strategy that worked," said Dean's campaign manager Joe Trippi. "We raised quite a bit of money. The size of the crowds demonstrated that we had a significant following in the party."
A Quinnipiac University poll released on Thursday showed that Sanders has the support of 33 percent of likely Democratic caucus voters in Iowa, while Clinton is at 52 percent. In early May, Sanders was at 15 percent. 
The Sanders campaign also released its fund-raising numbers today, a day after Clinton's campaign announced it had raised about $45 million since April. He has raised about $15 million since beginning his campaign. The average donation was $33.51, according to the Washington Post, and he received money from about 250,000 supporters. 
During the hour-long speech in Madison, Sanders discussed paid leave, free tuition at state universities, getting rid of Citizens United, single-payer health care, civil rights, and Scott Walker, the governor of the state he was speaking in (and a potential presidential candidate). "I know that Governor Walker may disagree but, to my mind," Sanders said, "the federal minimum wage of $7.25 an hour is a starvation wage which must be raised."
Senator Elizabeth Warren, whom many progressives unsuccessfully begged to join the presidential race, told the Boston Herald earlier this week, "These are people who care about these issues, and that's who Bernie's reaching. I love what Bernie is talking about. I think all the presidential candidates should be out talking about the big issues." Warren was as reticent to pick presidential favorites as she was to play along with her supporters'$2 2016 fanfic. When asked if she might campaign for her Senate colleague, she said, "Too early to say."