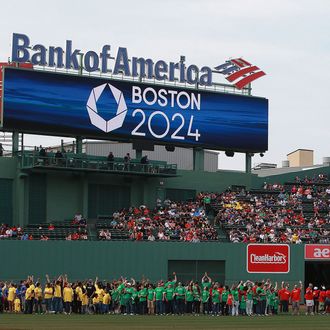 Photo: Jim Davis/Boston Globe/Getty Images
Hours after Boston mayor Marty Walsh told reporters he could not "commit to putting the taxpayers at risk" by signing a United States Olympics Committee host-city contract before he knew more about potential costs, the city's 2024 Summer Olympics bid has finally, officially been declared dead, according to the Boston Globe. 
It seems unlikely that anyone will attend the bid's funeral — Senator Elizabeth Warren and Governor Charlie Baker both expressed worries about how much public money might be involved in preparing for the Olympics — although Walsh didn't think that Boston was really against the idea of hosting the Olympics, despite the idea's low approval numbers. "The opposition for the most part," he said, "is about ten people on Twitter and a couple people out there who are constantly beating the drumbeat." 
The United States has not hosted a Summer Olympics since 1996. Boston beat out Los Angeles and Washington, D.C., to be the U.S.'s candidate this round. Now many are wondering if L.A. is going to step in and renew the U.S.'s chances of hosting before the September deadline.
"The USOC would very much like to see an American city host the Olympic and Paralympic Games in 2024," USOC chairman Scott Blackmun said in a statement released on Monday afternoon. "We will immediately begin to explore whether we can do so on a basis consistent with our guiding principles, to which we remain firmly committed."
However, locals there might be as apathetic about the Olympics as Boston was. An Associated Press-GfK poll from last month showed that Americans are excited about hosting the Olympics, as long as it is hosted … somewhere they don't live. Budapest, Hamburg, Germany, Paris, and Rome are also competing to host the 2024 Summer Olympics. 
No Boston Olympics, the main group publicizing the city's Olympic discontent, says it's time for Boston to move on. 
So I guess this means good-bye, hypothetical stadium made of abandoned Good Will Hunting DVDs.