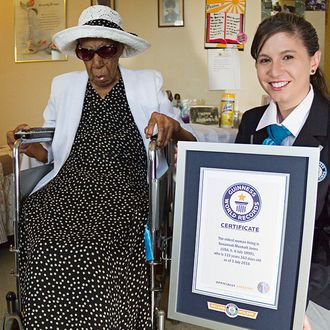 Jones is the one in the cute hat.
Photo: Courtesy of Guinness World Records
Once again, the world has a new oldest person: Brooklyn's Susannah Mushatt Jones, who turned 116 on Monday. Technically, she received the title when her predecessor died on June 17, but it's nice to have a round number.
Unlike the vast majority of humans, Jones has lived in three different centuries, having been born just five months after the end of the Spanish American War. Here's a bit of biographical information from Guinness World Records:
Susannah was born Susie Mushatt in Lowndes County, Alabama, to Mary and Callie Mushatt. Her father was a sharecropper who picked cotton to support his wife and ten children. In 1922, Ms. Jones left Alabama for New Jersey before moving to New York City in 1923, finding employment as a live-in housekeeper and childcare provider.
It's customary to ask people in Jones's position how they managed to stay alive for so damn long. According to what Jones told NBC New York, the secret is not "drinking, smoking or partying." Also: "sleep!" Don't look so surprised.