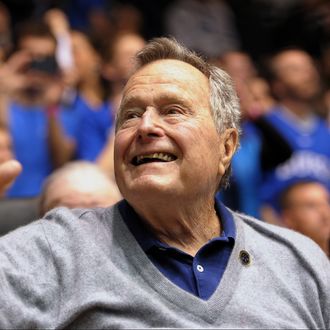 President George H. W. Bush in January 2014.
Photo: Lance King/Getty Images
Former president George H. W. Bush returned home to Kennebunkport on Sunday after spending four days in the hospital for a fractured vertebra. The 91-year-old fell in his home last week and fractured his C2 vertebra, but the injury did not affect his spine or cause any neurological problems. "He is in good enough condition that they can continue his recovery at home," said Bush spokesman Jim McGrath. Bush, who is the oldest living president, will be wearing a neck brace and is expected to recover fully in three or four months.