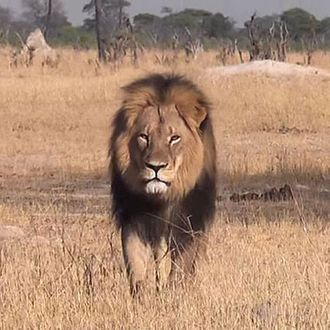 Since Zimbabwe's famous and much-loved lion Cecil was killed a short distance from the edge of Hwange National Park on July 1, the search has been on for the North American hunter who allegedly shot him. Authorities are now blaming a dentist from Minnesota named Walter Palmer for the unexpected (and illegal) killing.
Cecil was a fixture on local safari tours and "one of the most beautiful animals you'd ever see," a member of the Zimbabwe Conservation Task Force told the Washington Post. He was also part of an Oxford University study to determine the effects of hunting around the national park.
Palmer, along with a Zimbabwean hunter who served as his guide, allegedly lured Cecil from the park with an animal carcass and shot him with a bow and arrow, which is a favorite weapon of Palmer's. Conservationists in Zimbabwe are in an uproar, especially given Cecil's popularity and friendly disposition. The Zimbabwean hunter and the landowner of the property where Cecil was shot are facing poaching charges.
Palmer sent a statement to the Minneapolis Star Tribune about Cecil on Tuesday afternoon. 
>
This isn't the first time Palmer has been in trouble for poaching; in 2008, he plead guilty to illegally poaching a bear in Wisconsin.
Palmer, who reportedly paid $50,000 to shoot Cecil, reportedly did not go to work on Tuesday. His dental practice, where he specializes in "dazzling smiles that complement each individual's tooth structure, skin tone, and facial attributes," was unexpectedly closed this morning.
This post has been updated throughout.