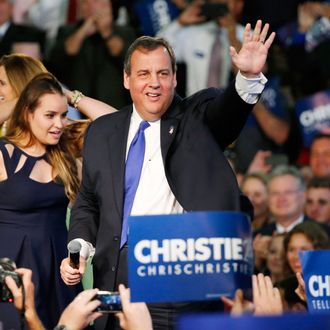 Chris Christie.
Photo: Julio Cortez/Corbis
Following the Supreme Court's same-sex-marriage decision, Chris Christie said he believes that the issue should have been decided by the people of each state rather than the court, but he has a responsibility to uphold the law. "I want to be clear, I don't agree with the way it was done, but it's been done, and those of us who take an oath have a responsibility to abide by that oath," he explained.
As some town clerks across the country vow that they'll go to prison before they'll violate their religious beliefs by issuing marriage licenses to same-sex couples, Christie clarified that he thinks all public officials have to uphold their oath, not just governors. "I think for folks who are in the government world, they kind of have to do their job, whether you agree with the law or you don't," Christie told reporters on Wednesday, according to Time. "You took the job and you took the oath," he continued. "When you go back and re-read the oath it doesn't give you an out. You have to do it."
Christie did note that there are some "individual circumstances that might merit some examination," but his position puts him at odds with many of his Republican rivals for the presidential nomination, who have argued that religious exemptions should be allowed. Looks like Christie's Straight Talk Express has officially left the garage! Let's see if it makes it down the block.