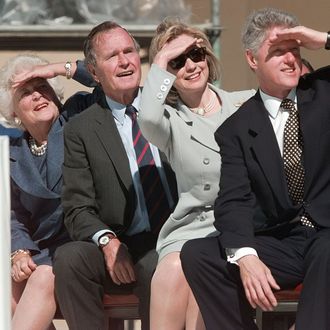 Look how high the stack of money goes!
Photo: PAUL J. RICHARDS/2012 AFP
Hillary Clinton announced her fund-raising haul on Wednesday — and it's a record-breaker. Her campaign raised around $45 million from when her campaign began in April to the end of June. The final number may be higher — her campaign is still adding up last-minute donations — but she already beat President Obama's $42 million record in 2011 and Clinton's previous record of $36 million in 2007. According to the campaign, 91 percent of donations were $100 or less. Clinton tweeted a message for her small donors.
(3/3) Just one thing left to say to everyone who has pitched in to support this campaign: Thank you. -H pic.twitter.com/TQTBWUZ3MW

— Hillary Clinton (@HillaryClinton) July 1,

2015
Clinton has also been attending dozens of fund-raisers featuring donors with bigger checking accounts and recognizable names. Her campaign's overall goal for 2015 is to raise $100 million.
The deadline for filing fund-raising documents with the Federal Election Commission is July 15, so Clinton's opponents will soon reveal how much money they have raised since April. Most numbers will be much smaller than this. Other candidates are just starting to fund-raise — Jeb Bush, for example, just announced his campaign last month. While the super PAC supporting his campaign has fund-raised monstrous amounts of money, his campaign coffers are just starting to get filled up.