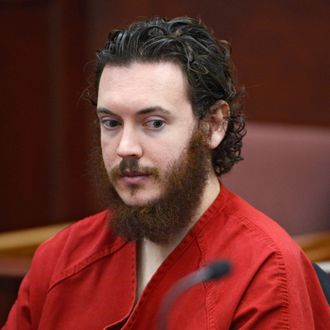 Photo: Andy Cross/Pool/Reuters/Corbis
A jury convicted James Holmes on first-degree murder charges for the 2012 theater shooting that took place during a midnight screening of The Dark Knight Rises in Aurora, Colorado.
The verdict means that the 27-year-old is eligible for the death penalty. It took the jurors  — nine women and three men — 13 hours to review all of the charges; it will now have to decide whether Holmes will spend life in prison or be sentenced to death.
Twelve people died in the shooting; 70 others were wounded. Many of the victims were in the courtroom during closing arguments, as were family members of the deceased. 
Two state-appointed forensic psychiatrists declared Holmes legally sane under Colorado law, although severely mentally ill. Two defense psychiatrists argued that Holmes had schizophrenia and couldn't be held accountable for his actions. If he had been declared not guilty because of insanity, Holmes would have likely been sent to a state mental hospital for life. 
Correction: An earlier version of this post said the shooting happened at a screening of The Dark Knight — it instead happened at a screening of the sequel.