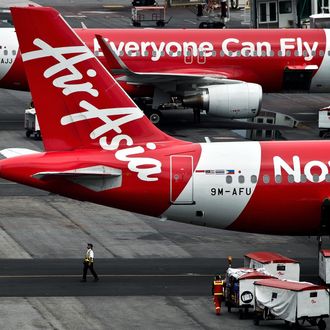 Photo: Manan Vatsyayana/AFP/Getty Images
If you're not already somewhat afraid of ISIS, perhaps this will do the trick: There's at least one commercial airline pilot fighting for the group, and some of his colleagues might be interested in joining him.
According to an Australian Federal Police document obtained by the Intercept, an Indonesian AirAsia pilot named Ridwan Agustin arrived in the Islamic State stronghold of Raqqa, Syria, sometime in March 2015. (His wife, an AirAsia flight attendant, likely came along.) Prior to his departure, Agustin, who started working at AirAsia around 2009, was fairly open about his interest in ISIS:
[In] September 2014, something changed. Interspersed with photos of pristine white sand beaches, motorcycle rides and goofy tarmac photos with his colleagues came postings in support of the Islamic State. He began friending and interacting online with other pro-ISIS profiles — including Indonesian foreign fighters documenting their battles in Syria or Iraq. Agustin changed his profile name to Ridwan Ahmad Indonesiy and expressed interest in joining the fight in Kobani.
Agustin isn't the only aviation professional to have expressed support for ISIS on social media. The Intercept reports that Tommy Hendratno, "a former member of the Indonesian military" who most recently worked as a pilot for a charter flight company, began posting pro-ISIS material online in mid-2014. (He also received training at a St. Louis facility in February 2015, by which time he was endorsing the Islamic State on Facebook "nearly every day.") On June 1, Hendratno quit his job and now seems to have vanished. 
Both Hendratno and Agustin's ISIS posts were "often" liked and shared by "other apparent pilots," and the pair is said to belong to an online group of "around 300 pilots, flight attendants, flight instructors, radar and air traffic control operators, and grounds crew in Indonesia, Australia, Malaysia, Switzerland, Germany, France, the Middle East, the United Kingdom and the United States."
"Pilots, air crew and others with access to and within the aviation environment can pose obvious threats if these persons are radicalized," warned the Australian Federal Police document, which was forwarded to several international intelligence agencies. "Their access and knowledge of security and safety regimes provides the ability to attempt attacks as witnessed by past global events." You know, just in case you didn't make that connection yourself.