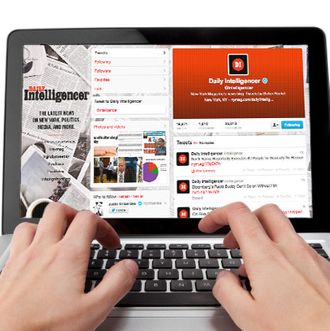 Welcome back to the New York Magazine Competition. On alternate Mondays, we lay out a challenge and offer a sample responses. Enter in the comments section, or on Twitter with the hashtag we've provided, and the editors will select a winner. Criteria are highly subjective, but heavily retweeted and favorited posts will have an advantage. The prize is a year's subscription to New York in print or a two-year subscription to the iPad edition (winner's choice). Full rules are here.
COMPETITION NO. 52: "CELEBRITY REAL-ESTATE ADS." Please offer ad copy from a famous person as he attempts to sell his or her apartment. For example:
Donald Trump: "This apartment is HUUUGE! The biggest. Honestly, only a loser wouldn't want to live here."

Harper Lee: "1960 house with brand-new addition, shown for the first time. Do not enquire at house down the block."

Larry David: "Pretty, pretty, pretty nice place I got here, huh."

Pablo Picasso: "Studio available. Open houses at 2, 5, and 8 p.m., to make visible all points of view."

Herman Melville: "Seaside home in New York available for long-term rent. Occupant departing on long trip shortly. Call me."
Enter on Twitter with the hashtag #realestateadsofthefamous, or in the comments thread below, by July 22.
RESULTS OF COMPETITION NO. 51, "SCALIA'S OTHER JOB," in which you were asked for the justice's proclamations had he chosen another profession.
HONORABLE MENTION TO:
Art restorer: "In all the projects I undertake, my overarching mission is to honor the intent of the framers."
—ragman
EDM DJ: "We're not playing any of that Calvin Harris/David Guetta/Deadmau5 stuff. It's not even real dance music. We're sticking with Kraftwerk and Donna Summer. MAYBE Oakenfold."
—haunt_fox
Comedian: "I would hide my head in a bag."
—rgqueen

Policeman: "We can skip this Miranda business."
—rbison

Plumber:  "If we cannot have moral feelings against so-called 'flushable wipes,' can we have it against murder? Can we have it against other things?"
—jade7243

Fry cook: "Presumably the meta-physicists at the Food and Drug Administration believe you can alter the basic properties of a thing without actually changing that thing, but the recipe calls for trans fats."
—Classicist

Proctologist : "There will be just a few seconds of jiggery pokery, and then it will be over."
—OldYeller62

Cyberdyne Systems advocate: "Terminators are people."
—BobKopac

President of the United States "Not a lifetime appointment? We'll see about that."
—‏@KevRant
AND THE WINNER IS:
Bartender: "Here is a freedom-destroying cocktail consisting of two parts patent falsity. You asked for it."
—MiddleCoastDan