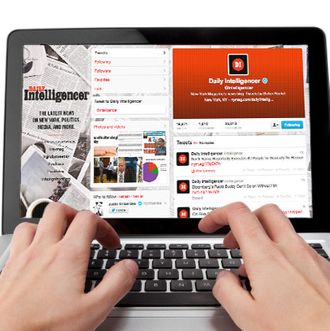 Welcome back to the New York Magazine Competition. On alternate Mondays (delayed this week, owing to our site outage), we lay out a challenge and offer a sample responses. Enter in the comments section, or on Twitter with the hashtag we've provided, and the editors will select a winner. Criteria are highly subjective, but heavily retweeted and favorited posts will have an advantage. The prize is a year's subscription to New York in print or a two-year subscription to the iPad edition (winner's choice). Full rules are here.
COMPETITION NO. 53: "HEY, WHAT'S THAT SMELL?" In honor of peak New York summer, please offer a four-line poem ending with the line, "Hey, what's that smell?" For example:


A two-hour flight. Mom with a baby.
Well, he's sleeping! We'll be okay. Maybe.
One hour so far. I think this kid's swell.
Hmm… a diaper bag. Hey, what's that smell?  

I used to attend the State Theater.
Loved City Opera's 'William Tell.'
At that new name, I wrinkle my nose.
The David H.—hey, what's that smell? 


Enter on Twitter with the hashtag #heywhatsthatsmellpoems, or in the comments thread below, by August 4.
RESULTS OF COMPETITION NO. 52, "CELEBRITY REAL-ESTATE ADS," in which you were asked for the justice's proclamations had he chosen another profession.
HONORABLE MENTION TO:
Alex Tsipras: "Greek Islands beach villa for sale.  German engineered.  Just kidding, I'm not selling. No wait, I am. Please buy my house."
—NY8  
Sarah Palin: "Wasilla waterfront. Lots of bedrooms. Great views of Russia."
—Lexxman  
Alex Rodriguez: "Special deal on a former showpiece located on 3rd, just out of recent repairs and rehab work. Inspection reports available. Sort of. Maybe."
—OldYeller62  
Hannibal Lecter:  "Private cell for sale.  Currently out of the country.  All inquiries handled by Agent Starling."  
—rmtmiller 
Taylor Swift: "Vacated cozy Nashville home convenient to Music Row.  Framed autographed photo of Tim McGraw, lifetime pass to the Grand Ole Opry, CMA awards, acoustic guitar, hope chest, map of Branson MO, scrapbook of country fan fest 2008 – all left behind and included in sale."
—j_son 
Glenn Beck: "Maybe you want a swimming pool along with your health care? Well, I'm dumping this Colonial. I'm moving to Canada."
—HudsonRiver 
 "Historic pile being let go at bargain prices because of owner's poor investments and lack of male heirs.  Cranky butler, valet under suspicion, and feckless daughters included.  Contact Lord Grantham."
—onvacation
Liam Neeson: "Crummy one-bedroom apartment for rent.  Dismal furnishings included.  Open-ended lease.  Low monthly payments to be made on time.  Should you skip town without notice I will look for you, I will find you, and I will kill you."
—rmtmiller 
Antonin Scalia: "Stone cube. Crystal windows. Gun room (NRA approved). Lobby. Lobbyist bedroom. Parchment room. Robe closet.  Substantial carbon footprint. All doors open on right. Moat."
—ggreg  
 "Glass house, ruined. Fixer-upper. Priced to sell. Contact Cosby."
—HudsonRiver  
"Lovely island property, located on La Grande Jatte.  Park does get quite crowded at the end of the weekend. Afternoon showings beginning at 12 pm  on the dot. Contact Georges Seurat for further information."
—BENLINUS99  
Captain Sully Sullenberger: "6 RMS RIV VU"
—RustyShackelford  
"Commercial property, California: Small semi-residential hotel.
Such a lovely place. Mirror on the ceiling.
Nice little money-maker. Guests just can´t leave!"
—queasyrider  
Robert Durst: "1,600 sq. ft. East Side apt. New soundproofing in bathroom. Some carpet stains." 
—RegisMayhem
E.M. Forster: "Timeshare in Florence.  Dark and small but has charming potential. Lovely view."
—hoipolloi
Virginia Woolf: "A Room of One's Own + Roof Deck.  Bushwick/1br."
—BambooLounge
AND THE WINNER IS:
Al Capone: "San Francisco! Oceanfront, quiet island suite, solid concrete construction. Lifetime lease possible."
—johnyk