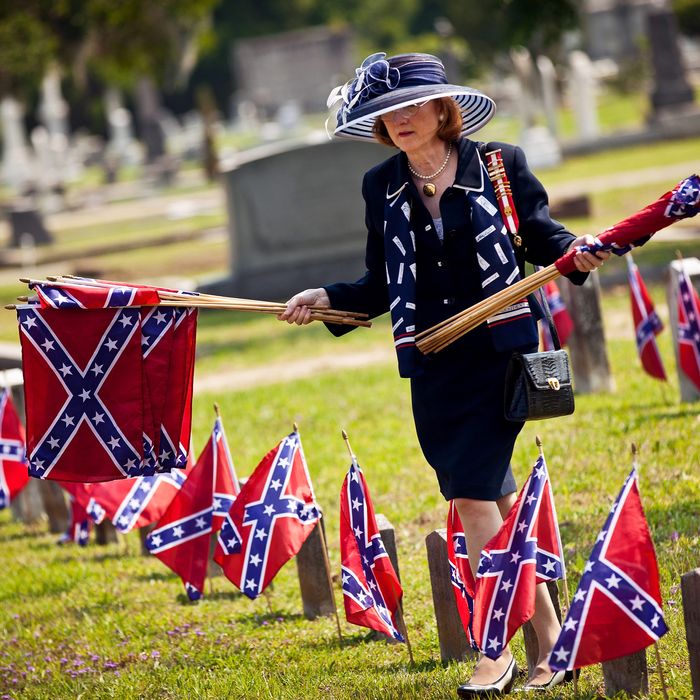 CHARLESTON, SC - MAY 10: A member of the Daughters of the Confederacy removes Confederate flags on tombs of soldiers killed during the US Civil War at Magnolia Cemetery to mark Confederate Memorial Day on May 10, 2011 in Charleston, South Carolina. South Carolina is one of three states that mark the day as a public holiday. (Photo by Richard Ellis/Getty Images)
Photo: Richard Ellis/Getty Images
As South Carolina prepares to remove the Confederate flag from its statehouse, the government from which that state once tried to secede is still trying to figure out what to do about Confederate flags in its national parks. House Republican leaders pulled an Interior spending bill from the floor Thursday after Democrats objected to an amendment that would have allowed for the Confederate flags at federal cemeteries.
Republicans introduced the amendment last minute, after southern GOP members asked for its inclusion to ensure people could still decorate relatives' grave sites — which is currently allowed, though the federal government tightly restricts when and for how long the flags can stay at the sites. Republicans say the amendment was making official that directive from the Department of Interior. 
But the Democrats blasted the amendment, especially as the GOP representatives apparently changed their minds. Just yesterday, reports the Times, Republicans had agreed to a different amendment that would have banned the display or selling of flags at national sites. In response to the back-and-forth, Boehner stopped the vote on the bill and said he would convene a bipartisan committee to consider how to approach issues relating to the Confederate flag in bills, as well as Confederate imagery in and around the U.S. Capitol.
After the Charleston massacre, some members of Congress have proposed removing the statues of Confederate leaders that line the Capitol's Statuary Hall, and another Mississippi congressman put forward a resolution to ban any state flags (basically, just Mississippi) with the symbol from the House and its offices.
According to the Post, Boehner will announce the committee in the next few days, but certainly not before the Confederate battlement comes down in Columbia Friday morning.