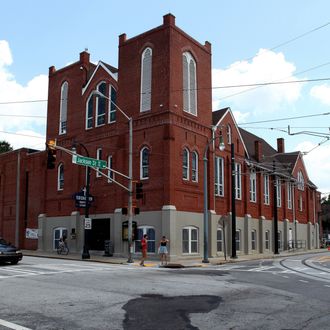 Ebenezer Baptist Church on July 17, 2015 in Atlanta, Georgia.
Photo: Raymond Boyd/Getty Images
Just a few weeks after the shooting at Charleston's Emanuel African Methodist Episcopal Church sparked a nationwide debate about the Confederate flag, several of the flags were found spread out on the ground around Atlanta's Ebenezer Baptist Church, where Martin Luther King Jr. preached. The Atlanta Journal Constitution reports that police have released surveillance footage that shows two white men placing the flags around the national landmark. "This is the same as placing a swastika on the campus of a Jewish temple," said Reverend Raphael G. Warnock, the church's pastor. "Whatever the message was, clearly it is not about heritage, but about hate." Police said the men could be charged with criminal trespassing, terroristic threats, and littering. State and federal officials are involved in the investigation, and they did not rule out calling the incident a hate crime, though Georgia does not have a hate-crimes law.