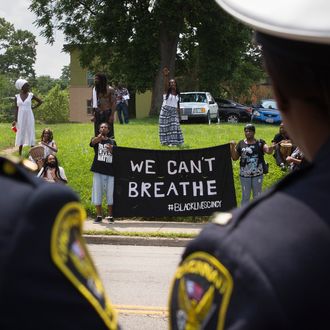 Photo: AP Photo/John Minchillo/Corbis
Ray Tensing, the University of Cincinnati police officer who fatally shot Samuel DuBose — a 43-year-old black man pulled over for not having a license plate on the front of his car — pleaded not guilty to murder on Thursday. His bond was set at $1 million; when the judge announced this, some people watching in the courtroom applauded. "Ladies and gentlemen, this is a courtroom!" Judge Megan Shanahan said. "You will conduct yourselves at all times appropriately."
Tensing was released around 6:30 p.m. after posting bond. According to the Cincinnati Enquirer, his father posted $100,085 and he only spent about 27 hours in jail. During that time he was on suicide watch. Major Charmaine McGuffey, Hamilton County court and jail services division commander, explained, "He was checked every 10 minutes. The officer is literally sitting in the unit with him documenting every 10 minutes that he is within his sight and that he is okay."
Tensing was indicted on Wednesday on one count of murder, for which he could face life in prison, and one count of voluntary manslaughter. Tensing's next court date was set for August 19.
"It was a senseless, asinine shooting," Hamilton County prosecutor Joe Deters told reporters on Wednesday after releasing body-cam footage of the traffic stop, which Deters called "a pretty chicken-crap stop." "He purposely killed him," he added. "He should never have been a police officer."
The original police report of the incident said that Tensing had been dragged by DuBose's car, which led to the shooting. Tensing's lawyer told NBC News on Wednesday that his client was "afraid that he was going to going to lose his own life." The prosecutor said the video instead seemed to show that the officer had fallen backward after shooting DuBose and that the victim may have fallen forward on the gas pedal afterward. Given the movement of the car and Tensing, it is a little hard to see exactly what is happening.
University of Cincinnati guidelines say that officers "should not discharge a firearm at or from a moving vehicle except as the ultimate measure of self-defense or defense of another when the suspect is using deadly force."
Deters was shocked when he saw the footage released today. "And I realize what this was going to mean to our community, and it really broke my heart because it's just bad."
"Could you imagine the outrage you would have if this was your kid, if this was your brother, over a stop like this?" Deters added. "And he didn't do anything violent towards the officer. He wasn't dragging him. And he pulled out his gun and intentionally shot him in the head."
Tensing, who was on administrative leave, turned himself in on Wednesday. He had worked at the university since August 2014. The University of Cincinnati canceled classes today, in advance of the press conference. "We realize this is a challenging time for our university community," a statement read. 
This post has been updated throughout.