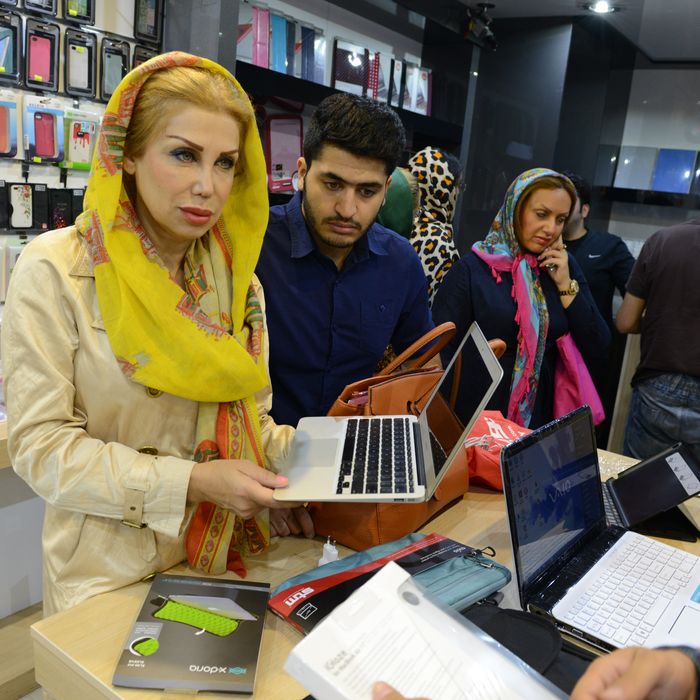 A woman looks at a MacBook Air in a shop specializing in Apple products and smartphone accessories in Paytakht computer mall in Tehran, Iran.
Photo: Kaveh Kazemi/Getty Images
One of the gambles that supporters of the new agreement with Iran are making is that if the deal goes through, there could be significant benefits for Western countries beyond simply addressing Iran's nuclear capabilities. One of those implied benefits would be increased economic ties with a country that has the fifth-largest oil reserves in the world, nearly 80 million citizens, and a market that many analysts see as certain to devour American and European products and services. Here's how Iranian foreign minister Javad Zarif tried to sell his country's potential in a recent interview with The New Yorker's Robin Wright:
We will have more trade; we will have less United States interference in our trade with other countries. Iran is a huge investment opportunity, and the human resources in Iran are probably second to none in this region. The pool of educated, serious, hardworking labor force in Iran is probably the best in the region. … This is the most stable place in the neighborhood. So it is an opportunity. A lot of people are already interested to come to Iran.
One of the major economic ramifications being debated is the impact of incorporating Iran's enormous oil reserves into the world energy market, something that could have a dramatic, long-term effect on world oil prices. However, as Vox's Brad Plumer notes, don't expect that to happen very fast:
Even if all goes according to plan, the US and EU won't lift sanctions on Iran until 2016 at the earliest. Once that happens, Iran can finally start selling some of the roughly 30 to 37 million barrels of oil it currently has stored in vast floating tankers off its coast. That could push down, modestly, on oil prices.

But after that, it might take years for Iran to get production in its crippled oil fields back to pre-sanctions levels. The country does possess vast crude reserves — but that doesn't mean it's all coming online tomorrow.
Oil aside, the Iranian domestic market is a tantalizing one, with the country's residents possessing hundreds of billions of dollars in disposable income, as well as a long-standing love of high-end Western brands, and what could be a $16 billion-a-year post-sanction technology market. (Sixty percent of Iranians are under the age of 30.) Last week in The Guardian, Ian Black highlighted some other areas of Iran's economy that could play out on the world stage, should sanctions be lifted:
It is the world's largest exporter of cement, as well as pistachios, saffron and caviar. Shipping is another big earner. State-owned Iran Shipping Lines has been badly hit by sanctions and stands to benefit significantly when they go, analysts say.

The single most urgent change business wants is the end to the ban on bank transfers under the international Swift system. "That has been the biggest blow," said Rouzbeh Pirouz, chair of Turquoise Partners. "But it's not just that. Iranian companies have had difficulty trading and participating in global markets."

Yet interest from European countries has grown "exponentially" since the interim nuclear agreement was signed in Lausanne in April. Iran's financial sector, food and beauty products are of special interest, he added. And French investors are looking closely at investment in hotels in the expectation of a leap forward in tourism.
Writing for Real Clear World, Iranian studies professor Jamsheed K. Choksy adds:
Due to decades of pent-up consumer demand, post-sanctions Iran will become a major emerging market for foreign exporters catering to luxury markets such as high fashion, fast cars, and the latest techniques in cosmetic surgery. Foreign suppliers will find lucrative sales markets in the hitherto moribund pharmaceutical, information technology, and aviation sectors (aircraft average age is 35 years and airport equipment dates from the 1970s). Educational collaborations will spring up with American and European universities – as currently seen in the United Arab Emirates and Saudi Arabia – catering to Iran's talented and discontent youth.
For more on Iran's pistachios, read the chat Slate's Ben Mathis-Lilley had with an American nut expert. Also drooling over the end of sanctions are American carpet sellers, who for decades have had to rely on second-hand or imitation Persian carpets. (Handmade Persian carpets are widely considered to be the finest in the world.)
However, while no one seems to be underestimating the size or scale of the potential market in Iran, as The Wall Street Journal emphasized today, foreign businesses looking to capitalize on the Iran deal will also find a country "that ranks a lowly 130th on the World Bank's ease-of-doing business list, and a place where bureaucracy, episodic corruption and political interference have long been encountered." The Journal adds that while Iranian officials seem geared up to facilitate foreign business deals and make that process easier, significant hurdles remain:
Though it has had business and political relations with Europe, the Islamic ideology of Iran's leadership has always kept Western countries at arm's length. In recent years, hard-liners have come to play a key role in some of the country's biggest industries, like energy and telecommunications. The Revolutionary Guard, the arm of Iran's military charged with protecting its Islamic system, is likely to remain under sanctions for alleged terrorism and human-rights violations. That could pose a risk for companies eager to enter businesses where local partners, or even conducting standard transactions, could trigger scrutiny from Washington or European capitals.
And looking at other business opportunities within Iran, other issues arise. For instance, Apple apparently put plans to move into the market on hold once they found Iran's laws regarding user agreements too restrictive. And Boeing, once it was allowed to do so last year, tried to sell airplane parts to Iran, yet despite the country's desperate need for those goods, the two sides could not come to an agreement. The aircraft giant will surely have another go at doing business with the country if the deal goes through and it is allowed to sell whole airplanes this time around.
Finally, while Iran may be a big, complicated market with lots of money to spend as a whole, the country has also faced years of worsening economic hardship for many of its ordinary citizens, and as the L.A. Times reports, "Iranians struggling through double-digit unemployment, high inflation and 1 in 5 families living below the poverty line" are hoping that any windfall from foreign investment will help improve their lives as well.