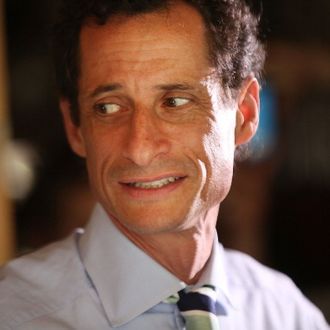 Photo: Spencer Platt/Getty Images
Anthony Weiner, whose career went up in flames because of his inability to handle PR crises, is the newest consultant at a PR firm that helps companies through PR crises, according to the New York Post. MWW, "one of the nation's top mid-sized public relations firms," hired Weiner to serve as an expert on D.C. politics and New York City. The firm's clients include Gold's Gym, Netflix, and Ball Park Franks.
As the Post notes, Michael Kempner is the head of MWW, as well as a major fund-raiser for Democrats. He's also helped Hillary Clinton raise more than $100,000 since her campaign launched in April, earning him the title of Hillblazer. To complete the circle, Weiner's wife, Huma Abedin, is Clinton's right-hand woman. So there's that.
There's also this: A 2014 Independent article that says Kempner is "obsessed by the revolutionary impact of social media," which actually helps explain his hiring Weiner. There are few people who know the impact of social media like the guy whose promising political career went belly up because he couldn't stay off of it.