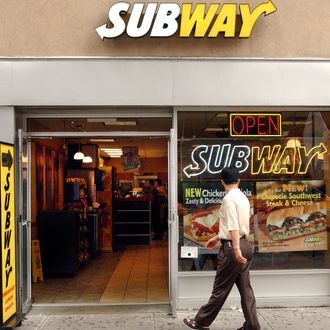 A man passes a Subway on August 5, 2003 in New York City.
Photo: Stephen Chernin/Getty Images/2003 Getty Images
A 34-year-old Long Island man was arrested on Sunday after leaving his 3-year-old daughter inside a Harlem Subway shop late on Saturday night. Stanley Fredrique entered the Subway on St. Nicholas Avenue around 11:30 p.m. with his daughter Natalie, bought a foot-long turkey sandwich, then walked out the door. Fruit vendor Mohammed Rahman told the New York Times he saw the girl follow him out, shouting, "Daddy, Daddy, Daddy," and her father told her, "Go back in. Sit down; I'm coming right back." About 20 minutes later, a female customer noticed Natalie sitting by herself and took her to the 26th precinct.
According to police, Fredrique said he woke up near Battery Park on Sunday morning, and all he could remember was that he had been drinking the previous night. He got in a cab to head home, called Natalie's mother, and began panicking when he realized the girl was gone. He had the driver stop on Tillary Street in Brooklyn and told two police officers that his daughter was missing. They had heard about the girl found in Harlem and took him back to the 26th Precinct, where he was charged with acting in a manner injurious to a child under the age of 17 and reckless endangerment in the second degree.
As he was led from the police station Fredrique shouted at reporters that he didn't intentionally abandon his daughter. "You guys don't know what's going on in my life," he said. "You guys are not in my shoes." Natalie underwent a medical examination as a precaution and is now in the custody of New York City's Administration for Children's Services.