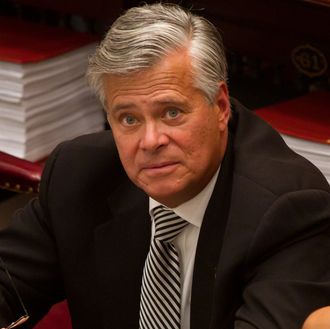 Photo: Matthew Cavanaugh/Getty Images
State Senator Dean Skelos and his son Adam had two new federal-bribery and extortion charges added to the buffet of corruption charges they were already facing this week. Adam Skelos was hired by a medical malpractice insurance firm that was then lobbying his father. A week after the new gig started, his supervisor wanted to set up a meeting to discuss the fact that "Adam Skelos had not reported for work for more than one hour during the previous four days," according to an updated indictment released on Tuesday.
Skelos called his supervisor back and allegedly threatened to "smash in" his head, adding that "guys like" him "couldn't shine [Adam Skelos's] shoes." In case his desire to get paid without attending work was not yet clear, Adam allegedly ended by noting that he didn't have to go to work because his father was Dean Skelos. He then called up his father to complain that he was being harassed at work.
The company allegedly kept Adam Skelos employed because it was afraid of losing access to the state senator, according to the court documents. 
The Skeloses still say they are innocent. At the Skelos Family Defense Fund website — which was "set up by friends of the Skelos Family to help cover the exorbitant legal costs that are being incurred in defending the Skelos Family against politically motivated attacks being brought by the United States Attorney" — interested parties can give money to help pay for the pair's defense. "The courthouse steps," the fund's mission statement reads, " are littered with the reputations of men and women who were indicted, then vindicated by a jury, only to find that a verdict of innocence left them destitute and broken."