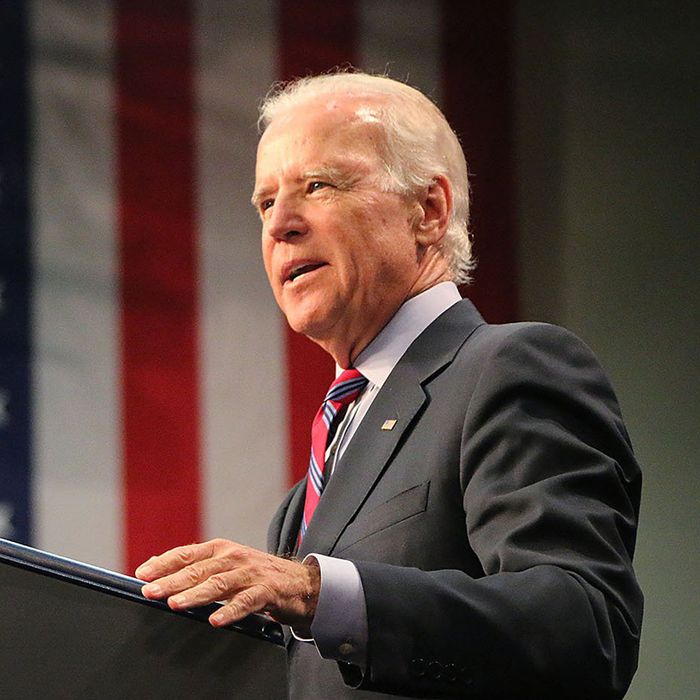 Vice President Joe Biden takes the podium to address the need for a strong voter turnout at JH Adams Gymnasium on the Allen University campus in Columbia, S.C., on Tuesday, Oct. 14, 2014.
Photo: Kim Kim Foster-Tobin/The State/MCT via Getty Images
Update: In response to the New York Times report that Joe Biden is considering entering the presidential race, Will Pierce, the head of the Draft Biden 2016 super-PAC, says: "We aren't surprised that he's positioning himself to make this difficult decision. He is better poised to run for President today than he has ever been before. And I think you're only going to see that narrative continue over the next several weeks." 
Earlier this year, Will Pierce, a 27-year-old veteran and young political operative, was sitting in his living room in Chicago with a friend discussing what they were looking for in their next presidential nominee. "We were looking at the Democratic field," he says, "and we decided we wanted a candidate that would continue Obama's legacy, who has experience." It wasn't Hillary Clinton they were thinking of. It was Joe Biden. "Here's a man with over 30 years of experience. He's lived the day-to-day responsibilities of the White House. He's a veteran of congressional affairs. This is the candidate we want." Most supporters would have blithely hoped that their favorite candidate would decide to run for office. But Pierce, who's been obsessed with political campaigns since he was a kid and did advance work for the Obama campaign, decided to spring into action. In March he registered with the FEC to form the Draft Biden 2016 super-PAC, with the goal of building a nationwide base of supporters if the vice-president decides to run.
They're organizing in early primary states. Though a recent FEC report shows them with just $7,000 in receipts, they say they've raised more money in the last few months and will disclose the totals next week. They've held events in Iowa, D.C., and Chicago and are planning a rally in Delaware at the end of the month, in hopes that it will nudge the veep closer to a decision.
The Biden super-PAC is one of the lesser-known presidential draft efforts. Ready for Hillary, the pro-Clinton group started by supporters outside Hillaryland, was initially viewed warily by Clinton world but eventually became a huge success, and some of its officials went on to work for the campaign. Before it was suspended last month, Run Warren Run was also impressively omnipresent in the political scene, despite the fact that their preferred candidate, Senator Elizabeth Warren, made it repeatedly and abundantly clear that she had no interest in a run. If Draft Biden 2016 has been a quieter effort, that may be in part because their preferred candidate hasn't made a peep about his future plans in months. To Pierce, that's a good sign.
"The thing is, we've seen no bat signal saying, 'No, he's not going to run.' He's not silent about his feelings. If he feels one way then he's going to say it," Pierce says. "Unlike Senator Warren who said over and over and over 'no no no,' we've not seen bat signals from him saying he's not going to. But we haven't seen any bat signals saying he does plan to run, either. We're showing him, if and when he does decide to run, the amount of supporters he has."
The question of whether Biden might run for president against Hillary, who's still dominating the polls even if voters have concerns about her trustworthiness, got a whole lot more complicated after Biden's son Beau died of brain cancer at the end of May. Draft Biden 2016 had a happy hour in D.C. planned shortly after his death, which they quickly turned into a chance to raise money for the Beau Biden Foundation. Still, they find reasons to be hopeful. Biden lost his wife and daughter in an automobile accident in 1972, and later said he was able to find salvation by throwing himself into the work of the Senate. Pierce pointed to a Wall Street Journal article that ran last month noting that, before Beau passed away, he encouraged his dad to take one more shot at the White House. "The Biden family is going through a difficult time right now," Kendra Barkoff, the VP's spokesperson, wrote to me in an email. "Any speculation about the views of the Vice President or his family about his political future is premature and inappropriate."
"I don't read anything into that, especially because it's a government spokesperson as opposed to political spokesperson," Pierce shrugs. "I have to agree if she was coming out as the vice-president's official spokesman and speculating would be in poor taste on her end."
Not long after Draft Biden 2016 got started, a supporter saw Pierce — an Army veteran who's served in both Iraq and Afghanistan — on MSNBC and emailed him with a Shepard Fairey–inspired design featuring Joe behind the wheel of a convertible with the slogan "Ridin with Biden." The first 500 bumper stickers they had printed sold out within four hours. They printed more, and with funds from the stickers they got a glass-walled office space in Chicago's Loop. They decorated the space with a large print of the image and a cardboard cutout of the vice-president mailed to them by another Biden fan. "We brought him D.C., to Iowa, we brought him to a fund-raiser in Chicago — he was almost kidnapped a few times at events," Pierce says. "People are like, 'I want him!' And I'm like, 'No, you can't go home with him!'"
Pierce says the office, which he describes as "a cross between the West Wing and Google" (if a little smaller), tends to surprise people because the staffers are so young and diverse. "When you think of a super-PAC for the vice-president you think of old white guys running it, but here you've got a 27-year-old black guy doing it." It's evidence, he says, that "we're seeing across all generations the support for the vice-president."
This article was originally published on July 10, 2015.