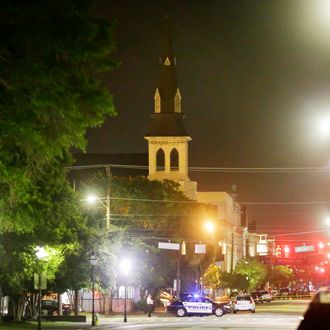 Photo: David Goldman/AP/Corbis
Dylann Roof, the 21-year-old suspected of killing nine African-Americans attending Bible study at the Emanuel A.M.E. Church in Charleston, South Carolina, last month, will reportedly be indicted on federal hate-crime charges, according to several reports. 
Roof, who is white, already faces nine murder charges and three attempted murder charges in state court. Federal authorities rarely get involved in hate-crime cases, leaving states to resolve the matter, but South Carolina is one of five states that does not have a hate-crime law. Federal hate crime convictions cannot be punished by the death penalty; it is not clear whether prosecutors in South Carolina intend to seek the death penalty.
After the murders took place, authorities discovered a racist manifesto that Roof had allegedly published online, and photos of him standing with Confederate flags and an Apartheid-era flag from South Africa; friends also said that Roof had said he wanted to start a race war. 
>