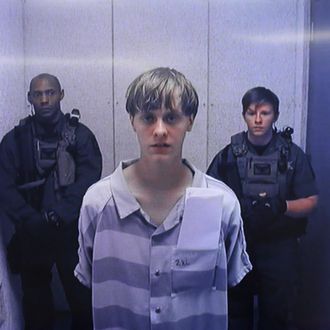 Dylann Roof at his bond hearing.
Photo: Grace Beahm-Pool/Getty Images/2015 Getty Images
Dylann Roof has picked up additional attempted murder charges for the three survivors of the June 17 massacre at Charleston's Emanuel African Methodist Episcopal Church. On Tuesday, a South Carolina grand jury indicted the 21-year-old on nine murder charges, three attempted murder charges, and one count of possessing a weapon during a violent crime, the Washington Post reports. Roof appeared at his bond hearing via video conference last month, and no further court appearances are scheduled. Charleston County Prosecutor Scarlett Wilson would not comment on the case, but South Carolina Governor Nikki Haley has said Roof should face the death penalty. Federal authorities are still investigating the shooting and are expected to charge Roof with a hate crime.