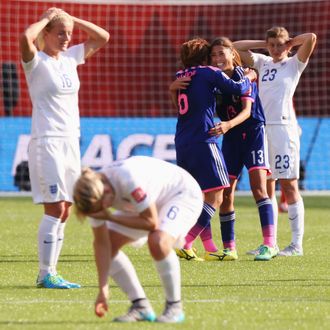 Mizuho Sakaguchi and Rumi Utsugi of Japan celebrate after their semifinal win in the Women's World Cup.
Photo: Ronald Martinez/Getty Images
The United States had already punched its ticket to the Women's World Cup Final with a win over Germany on Tuesday night. Last night, they learned their opponent: After more than 90 minutes of tight play in the semifinal between England and Japan, England lost in perhaps the most devastating way possible: an own goal by Laura Bassett during stoppage time that handed Japan a 2-1 victory.
Ouch. Here's the goal from a different angle:
The goal sets up a rematch on Sunday evening of the 2011 final, a classic game that ended in dramatic fashion. Japan battled back from deficits of 1-0 and 2-1 in that game, eventually winning on penalty kicks to capture their first Women's World Cup title. It's a rematch at least one member of the U.S. team has been waiting for. "It's so hard to get to a final. This is our journey this time, and whoever we face, we'll be happy with," midfielder Megan Rapinoe said on Tuesday. "But, obviously, if we could get one back on Japan, that would be great."