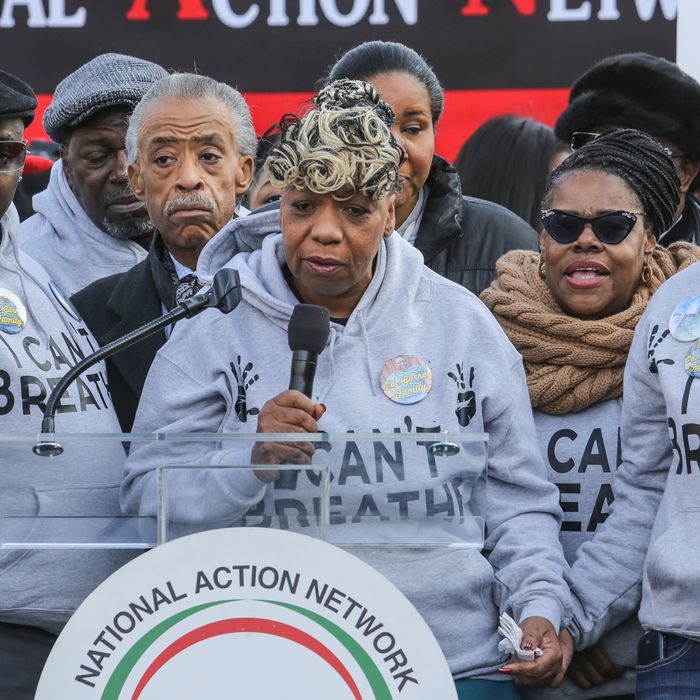 Gwen Carr, the mother of Eric Garner, at the 'Justice For All' march in Washington, DC, December 13, 2014.
Photo: Evelyn Hockstein/For The Washington Post via Getty Images/2014 The Washington Post
New York City has agreed to pay Eric Garner's family $5.9 million to settle their wrongful death claim, City Comptroller Scott Stringer announced on Monday night. The unarmed Staten Island man died after being put into an apparent choke hold by police, and the family had filed a notice of claim saying it would seek $75 million in damages. Negotiations have dragged on for months, and the family's attorney told the New York Times they planned to file the suit on Friday, the first anniversary of Garner's death, if they hadn't reached an agreement.
In December, Stringer said he was interested in settling the Garner case before the family's civil suit had been formally filed to save the city the costs of a long and difficult trial. "We are all familiar with the events that lead to the death of Eric Garner and the extraordinary impact his passing has had on our city and our nation," Stringer said in a statement. "It forced us to examine the state of race relations, and the relationship between our police force and the people they serve." He added that while the city did not admit to any wrongdoing, the agreement "acknowledges the tragic nature of" Garner's death.
"No sum of money can make this family whole, but hopefully the Garner family can find some peace and finality from today's settlement," Mayor Bill de Blasio said in a separate statement. "By reaching a resolution, family and other loved ones can move forward even though we know they will never forget this tragic incident."
Garner's relatives are expected to discuss the settlement at a press conference scheduled for Tuesday morning. In December 2014 a grand jury opted not to indict NYPD Officer Daniel Pantaleo, who allegedly put Garner in a choke hold, but the results of a federal civil-rights investigation and the NYPD's internal probe are still pending.