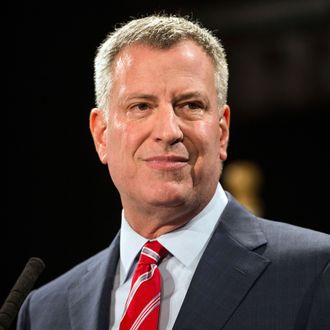 Photo: Andrew Burton/Getty Images
Mayor Bill de Blasio knows that it makes New Yorkers grumbly when he is out of town, so he made sure to leave for a two-day mayoral climate conference in Rome at the very last minute. A change in climate overseas, dense fog that diverted his flight to Milan for a spell, gave de Blasio something else to bring up at his next constituent confession. He was late. Again. At the Vatican. 
When de Blasio began his speech — about 80 minutes late — he said that the recent papal encyclical, with its dire warnings about how the warming of the planet threatens us all, "burns with urgency." 
The assembled mayors — about 60 of them — who gathered at the Vatican to pledge support for fighting climate change in advance of the international talks in Paris this December are scheduled to sign a declaration later today noting that "human-induced climate change is a scientific reality," according to the Associated Press. De Blasio also announced new greenhouse gas emission targets in his speech — a plan to reduce emissions by 40 percent by 2030. "The Paris summit is just months away," he said. "We need to see it as the finish line of a sprint, and take every local action we can in the coming months to maximize the chance that our national governments will act boldly."
The mayor is scheduled to attend dinner at the Vatican on Tuesday evening. De Blasio could make up for his tardiness by bringing Pope Francis his most cherished and missed food: pizza. Who knows, maybe the Pope would even eat it with a fork.