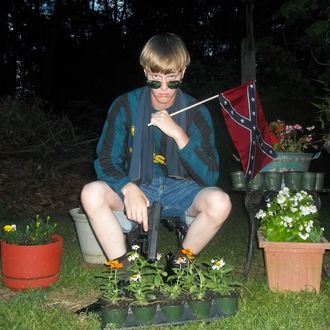 The FBI should have stopped Dylann Roof from buying the gun he used to kill nine people in a Charleston, South Carolina, church last month, the agency's director James Comey said today. But it didn't, because it messed up.
"I am here today to talk to you about a mistake, in a matter of heartbreaking importance to all of us," Comey said. "Dylann Roof, the alleged killer of so many innocent people … should not have been allowed to purchase the gun he allegedly used that evening."
Because of a prior arrest for drug posession and Roof's admission that he was indeed carrying narcotics, he should have been turned away by the dealer who sold him the .45 caliber he used on June 17. But the FBI background check failed to turn up that arrest in time to prevent the sale.
The bureau did initially flag Roof and told the dealer to hold off on the sale while it looked further into his background. That delays the sale for three days. If the FBI hasn't clarified after three days, the sale is legal, and that's what happened here. In that three-day span, the agent looking into Roof's background made a handful of phone calls to clarify the issue but was unable to resolve it because the FBI's database did not include contacts in the Columbia Police Department, which arrested Roof on the drug charges.

Three days after the initial delay, Roof's purchase was still marked "pending," so he was able to buy the gun.
"We are all sick this happened," Comey said. "We wish we could turn back time."