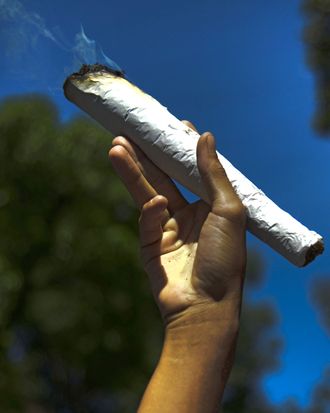 Photo: Raul Arboleda/AFP/Getty Images
Last night, the first television ad trying to encourage you to go out and buy some recreational pot was supposed to air during an episode of Jimmy Kimmel Live on KMGH, an ABC affiliate in Denver. E.W. Scripps Company, which owns the station, decided to put the brakes on it — along with all other potential marijuana ad campaigns — for the near future.
While the scent of marijuana floating through the air might be a perfectly legal thing in Colorado, its legality on the airwaves is questionable, given that airwaves are regulated by the federal government. The Federal Communications Commission, the federal agency responsible for logging your complaints about errant nipples, groin-kicking, the specter of "LIVE TIME FORNICATION," and "suggesting that men should give women their penis in a box as a present" on wholesome television programs, has not been clear on whether it would punish TV stations that allow companies to market something it considers illegal. 
Colorado law permits TV ads for pot as long as they run during programming that kids are unlikely to watch. Monday's ad was scheduled to air at 10:35 p.m. Cannabrand, the ad start-up once profiled in the New York Times "Style" section that produced the 15-second spot for cannabis-oil vape-pen company Neos, told Marketwatch that it was "'whimsical,' displaying clips of Colorado scenery" and made "no mention of cannabis verbally or visually."