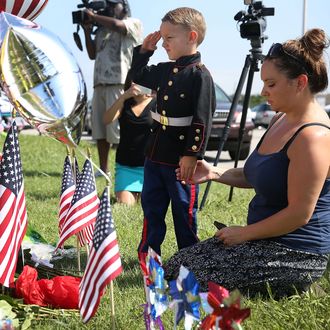 Blake Miller and his mother, Ashley Miller whose husband is a Lieutenant in the Marine Corps pay their respects to those killed while visiting a memorial placed in front of the Armed Forces Career Center/National Guard Recruitment Office which had been shot up on July 17, 2015 in Chattanooga.
Photo: Joe Raedle/Getty Images
The names of the five servicemen killed in the shooting in Chattanooga, Tennessee, on Thursday have been identified. The fifth victim to die, U.S. Navy Petty Officer Randall Smith, succumbed to his wounds early Saturday. Here is what we know about him and the other four men who were killed.
Marine Corps Gunnery Sergeant Thomas Sullivan
Thomas Sullivan was the oldest person killed in the Thursday shooting at two military facilities in Tennessee. He was 40 years old and reportedly received a Purple Heart and a Combat Action Medal after his two tours in Iraq. Tommy, as those from his hometown in Springfield, Massachusetts, called him, had served in the Marine Corps since 1997. Springfield mayor Domenic J. Sarno released a statement on Sullivan's death: "Sgt. Sullivan dedicated his life in brave service to his country and to see it end under such tragic circumstances is heartbreaking." Senator Edward Markey also released a statement on Sullivan's death: "I am deeply saddened by the tragic death of Sergeant Thomas Sullivan, who was killed during a senseless act of violence and hatred. A son of Springfield and Purple Heart recipient, Sergeant Sullivan served our nation with honor and fought to keep us safe."
He went back home to Massachusetts frequently, according to the Washington Post, and even went to see his parents earlier this month. He attended Woodbridge Community College and the American Military University.
Outside Nathan Bill's Bar & Restaurant, owned by Sullivan's brother, a huge American flag hangs. Many of Sullivan's family and friends are remembering his life there today. 
Marine Corps Sergeant Carson Holmquist
Holmquist was from Grantsburg, a town of about 1,300 in Western Wisconsin. He had more recently lived in Jacksonville, North Carolina. Grantsburg High School principal Josh Watt was Holmquist's football coach. Watt told the Associated Press that Holmquist, who graduated from high school in 2008, had loved fishing, hunting, and football — he played defensive back. The Marine served at least one deployment in Afghanistan. KARE reports that Holmquist's Facebook page features photos of his wife and 2-year-old son. Holmquist's mother, Susan, told KARE that she and her husband are "just trying to make it through the day."
Marine Corps Lance Corporal Skip Wells
Wells, from Marietta, Georgia, joined the Marine Reserve about a year ago. He was only 21 years old at the time of his death. He was in Chattanooga for reserve training and was only scheduled to be there for two weeks — he just got there on Sunday. He played the clarinet in marching band at Sprayberry High School and had recently gotten into Civil War reenactments. He briefly attended Georgia Southern University and took part in Junior ROTC. His youth pastor told the New York Times, "He had been preparing for military life for a while and looked forward to it … He really felt like it was a calling."
Marine Corps Staff Sergeant David Wyatt
The 35-year-old was from Hixson, Tennessee, and lived about ten minutes away from the man who allegedly killed him. A large flag waved from his family's garage on Friday, according to The Wall Street Journal. Wyatt was originally from Russellville, Arkansas, but lived in Tennessee with his wife and two children. 

U.S. Navy Petty Officer Randall Smith
Smith, 26, grew up in the city of Pauling in northwest Ohio. The Associated Press reports that according to one of Smith's family members, he had been an accomplished athlete and avid baseball fan who even earned a baseball scholarship to Defiance College, also in Ohio. After suffering a shoulder injury, he decided to join the Navy and had just reenlisted prior to being stationed in Chattanooga. Smith's step-grandmother told the Daily News, "He went into the Navy because his grandpa wanted him to. But once he got in there, he loved it. He wanted to make a career out of it." He married his wife a few months after joining the Navy, and they had three daughters, all of whom are still under the age of 7.
Smith, who was working as a logistics specialist at the Navy Operational Support Center in Chattanooga, was shot three times on Thursday, which left him in critical condition with injuries to his liver and colon. After receiving surgery Friday, he had regained consciousness and briefly communicated with his wife, but his condition eventually worsened and he died early Saturday morning.
Two other people were injured in the shooting. Chattanooga police officer Sergeant Dennis Pedigo Jr. was shot in the ankle and should be released from the hospital this weekend. The other victim, a marine recruiter, was shot in the leg and has already been treated and released.