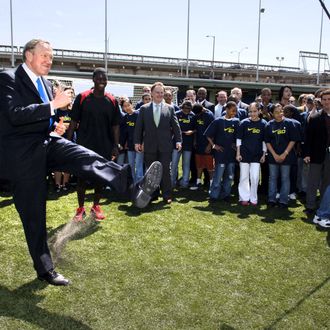 So you're saying there's a chance.
Photo: Jemal Countess/WireImage
As of yesterday morning, Lindsey Graham and George Pataki were definitely not going to make it into either of Fox News' Republican presidential debates scheduled next week; Louisiana Governor Bobby Jindal and Carly Fiorina were at risk of being left off-stage, too. The main attraction — a 9 p.m. debate featuring the ten candidates with the most support in national primary polls on August 6 — will exclude six of the GOP contenders. A second debate at 5 p.m. was supposed to give the rest time to speak to potential voters — as long as they had at least one percent support in the polls. 
On Tuesday, Fox News announced that all 16 candidates would now get a chance to take part in one of the two debates, owing to "overwhelming interest." The fact that some of the candidates — some which will get to take part in the prime-time debate, others forced into the honorable mention debate, a few that almost got completely sidelined — have polling numbers that may be within a margin of error might have had something to do with it too.
Donald Trump is currently leading the national polls, and will be joined on the prime-time debate stage with Jeb Bush, Scott Walker, Marco Rubio, Ben Carson, Rand Paul, Mike Huckabee, and Ted Cruz. The last three debating spots are a bit up in the air, given how close the candidates are bunched up at the bottom of the barrel — where many hope that a last-minute ad buy or something even more awesome than politically motivated chainsaw usage might propel them to the cool kids' table. Those taking place in the runner-up forum might not get as many eyeballs, but they do get the consolation prize of not having to debate Donald Trump.
The candidates who were rescued by this last-minute rule change are being mostly mum, which isn't totally surprising; telling voters your campaign that they weren't paying attention to was saved by divine intervention might not be the most strategic move.