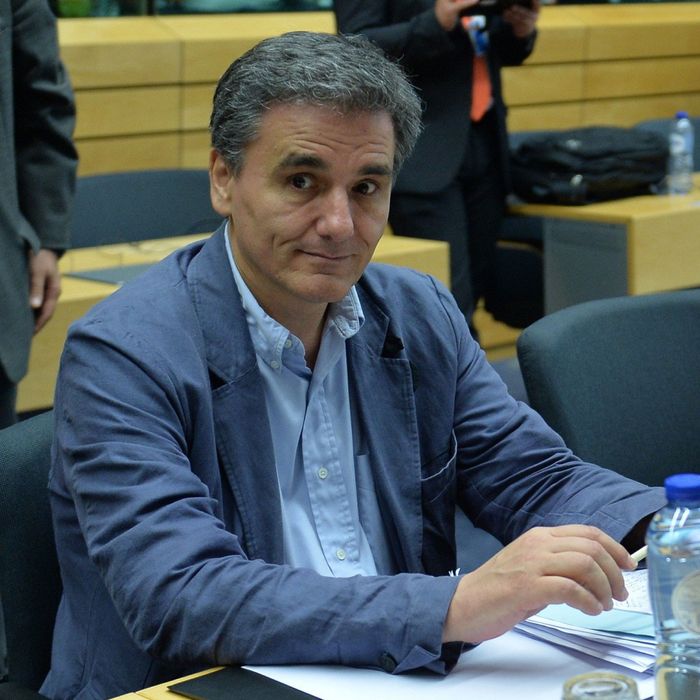 Newly appointed Greek Finance Minister Euclid Tsakalotos (L) attends to Eurogroup Finance Ministers Meeting on Greek crisis at EU council headquarters in Brussels, Belgium on July 7, 2015.
Photo: Dursun Aydemir/Anadolu Agency/Getty Images
Greek finance minister Euclid Tsakalotos, who replaced his leather-clad predecessor on Monday, got off to a bad start when he failed to present a new bailout proposal at a meeting of eurozone finance ministers in Brussels on Tuesday afternoon. Tsakalotos was expected to present a formal blueprint for the economic reforms Greece is willing to make in exchange for more financial aid from other eurozone countries, but instead he spoke from handwritten notes about proposals already made last week. His remarks were not made public, but according to the Washington Post, the phrase "no triumphalism" — an apparent reminder not to gloat about Greek voters' rejection of eurozone bailout terms — was spotted scribbled on the hotel stationery he was holding as he entered the meeting.
European leaders were angered by Greece's failure to come up with a new proposal. "You know, there was a promise for today. Then, they're promising for tomorrow," said Lithuanian President Dalia Grybauskaite. "For the Greek government it's every time 'manana.'" Greece is expected to send a letter formally requesting help from Europe's bailout fund by Wednesday, and the delay allows Greece to wait to see what happens during a gathering of eurozone leaders set to take place tonight. Jeroen Dijsselbloem, head of the Eurogroup, said the finance ministers will hold a teleconference tomorrow to discuss the new plan, assuming Greece actually submits it. 
Greek banks have been closed since last Monday, and George Katrougalos, a Greek minister for administrative reform, admitted on Tuesday that reopening them is "probably is not technically possible this week." Tuesday's delay makes it even less likely that the two sides will be able to reach a compromise before July 20, when Greece must pay €3.5 billion to the European Central Bank. If Greece misses that payment, the European Central Bank will probably cut off its emergency loans, forcing Greece to exit the eurozone and start issuing its own currency. "It's not a matter of weeks any more," said German Chancellor Angela Merkel as she arrived in Brussels for tonight's meeting. "It's a matter of days."