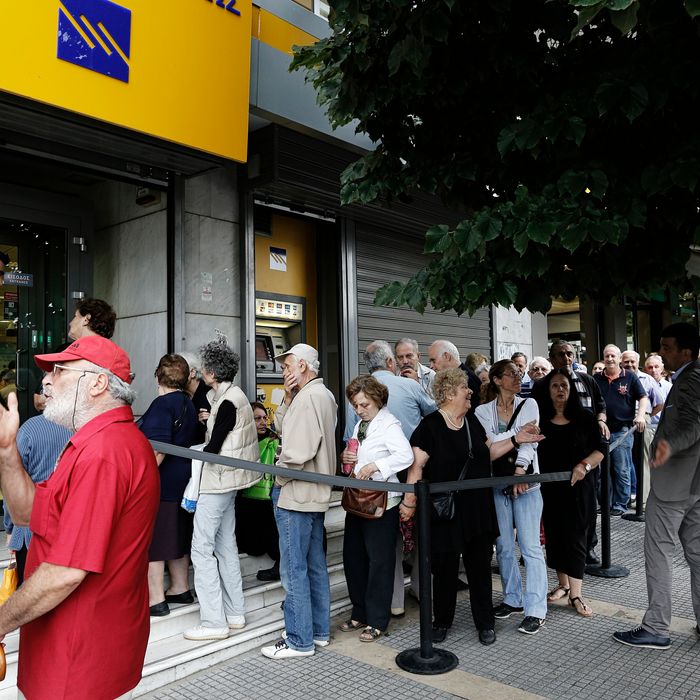 Pensioners queue to get access inside an open Piraeus Bank SA bank branch as they attempt to collect their pensions in Thessaloniki, Greece, on Wednesday, July 1, 2015.
Photo: Konstantinos Tsakalidis/Bloomberg via Getty Images/© 2015 Bloomberg Finance LP
Greece passed a terrible milestone on Tuesday when it became the first developed country to miss a debt payment to the International Monetary Fund. As the New York Times explains, technically missing the €1.5 billion ($1.7 billion) payment put Greece in arrears, but effectively it's a default. That puts Greece on the same list as nations like Zimbabwe, Sudan, Somalia, Iraq, and Afghanistan. "They are joining countries we would normally regard as failed and failing states," Jacob Funk Kirkegaard, a senior fellow at the Peterson Institute for International Economics in Washington, told the Times. "The symbolism is quite dramatic."
Last weekend the European Central Bank refused to increase an emergency loan program that's been propping up the nation's economy for years. The EU rejected a last-minute request by Greece to extend the program just before it expired on Tuesday, but EU finance ministers have agreed to hold an emergency conference call on Wednesday to discuss a new bailout proposal.
German chancellor Angela Merkel said there would be no new deal negotiated until after Greece holds a referendum on Sunday to decide whether to accept the terms of an offer from its international creditors. However, according to the AP, some Greek officials are hinting that the referendum may be abandoned if they can reach an agreement before then. "Look, if a deal is found, there is a chance there could be this possibility too. Everything is developing," Health minister Panagiotis Kouroumplis said in a TV interview. President Obama is reportedly working to prod European leaders into reaching an agreement.
Meanwhile, Greece's finance ministry ordered about 1,000 banks to reopen on Wednesday to allow pensioners who don't use ATM cards to withdraw their €120 ($134) for the week. On Sunday banks across the country were closed and limits were placed on ATM withdrawals. While the openings were meant to ease the strain on pensioners, they've also created new chaos, as some people who had waited in line for hours were told that their pensions hadn't been deposited. Others were informed that they would have to come back later in the week because customers were being served alphabetically. "It's very bad," 68-year-old retiree Popi Stavrakaki told the AP. "I'm afraid it will be worse soon. I have no idea why this is happening."