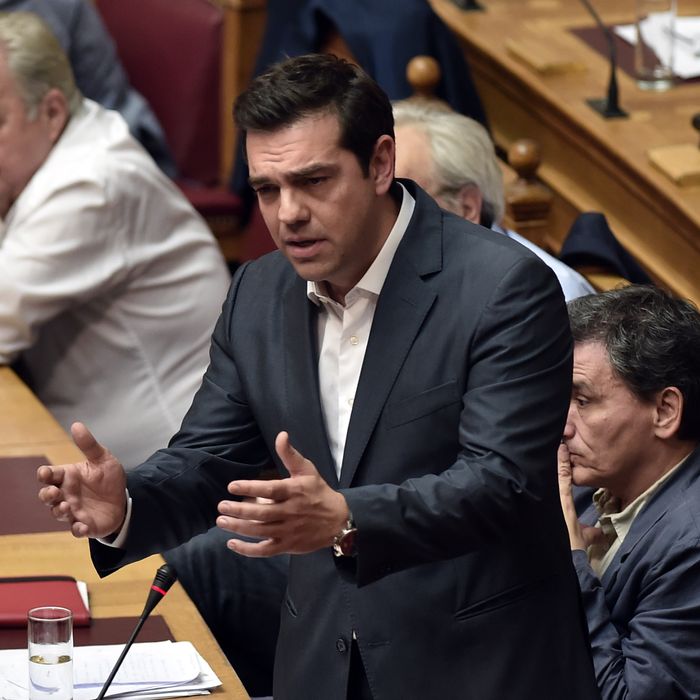 Greek Prime Minister Alexis Tsipras addresses a parliamentary session in Athens on July 15, 2015.
Photo: ARIS MESSINIS/AFP/Getty Images
While Greek voters overwhelmingly rejected the terms of a bailout offer from international creditors earlier this month, early on Thursday morning Greece's parliament accepted similar measures in a vote of 229 to 64. Under a deal struck on Monday, Greece had to implement harsh spending cuts and tax increases to receive a third bailout from other European countries and remain in the eurozone. In an unexpected move, Prime Minister Alexis Tsipras, who set off the current showdown when he walked away from negotiations and called for a referendum several weeks ago, took the floor to urge lawmakers to approve the deal. "I don't believe the measures will benefit the economy, but we are forced to adopt them," he said, arguing that it was the only way Greece could avoid economic collapse. 
While the measure passed, it created new headaches for Tsipras, as most of the support came from opposition parties. Of the 149 members of Tsipras's left-wing Syriza party, 32 voted no against the austerity measures, including three of his own ministers. Tsipras is expected to replace them, and he may have to form a new coalition or call for elections.
Outside of parliament, about 12,000 people gathered several hours before the vote to protest the new austerity plan. Several hundred demonstrators turned violent, setting fires and hurling objects at police. They responded with tear gas and flash bombs, and by the end of the night about 50 people had been detained. Public workers and pharmacists also staged a 24-hour strike to register their opposition to the measures.
There was a bit of encouraging news for Tsipras. On Tuesday the International Monetary Fund threatened to pull its support for the latest bailout if it does not come with a reduction in Greece's debt burden. Tsipras has been pushing for debt relief, and while some European nations are open to adjusting the terms, German chancellor Angela Merkel has ruled out simply reducing Greece's debt, which stands at more than €300 billion.
But there are more immediate concerns. Several European parliaments, including Germany, are set to vote on the agreement in the coming days. Then eurozone finance ministers will need to figure out how to prevent the collapse of Greece's banking system as leaders negotiate the details of the bailout, a process that is expected to take a month.