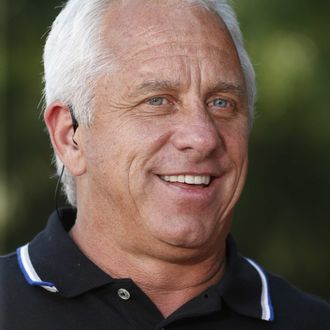 Greg LeMond.
Photo: Jean Catuffe/Getty Images
Performance-enhancing drugs have long plagued professional cycling, but three-time Tour de France champion Greg LeMond accused riders of a different form of cheating this week: tiny motors on their bikes. "I believe it's been used in racing," he told the AP in France, where this year's Tour de France is winding down. "I believe it's been used sometimes in the Grand Tours."
The International Cycling Union (or UCI) says it has checked for motors during this year's Tour and hasn't found any, but LeMond says the prerace equipment checks aren't good enough, calling them "fluff" and "all words."
It's not the first time he's spoken out against "mechanical doping," as it's apparently called. From Cycling News, in May:
"I know that motors exist, I've ridden a bike with one and I've met the inventor and talked about it. If people think they don't exist, they're fooling themselves, so I think it's a justified suspicion. I believe it's also been used in the peloton. It seems too incredible that someone would do it, but I know it's real," he said.
LeMond says there's a solution, though. It involves a thermal heat gun:
"It's simple to check for, much easier than doping, but not by looking down the tube. You need a thermal heat gun, you can use it in the race. It can see from metres away if there's a difference in the heat in the bottom bracket. I'd recommend that to the UCI."
Laugh if you want, but UCI president Brian Cookson says they take the problem seriously, because the technology to make it happen does indeed exist. "We understand that although this subject sometimes causes amusement and derision we know that the technology is available: we have seen examples of it in laboratory conditions," he told AFP last week after a French TV analyst commented that Tour leader Chris Froome's bike appeared to be "pedaling itself." Cookson says that they've "done some testing already for concealed motors," but admits it's only been happened periodically.