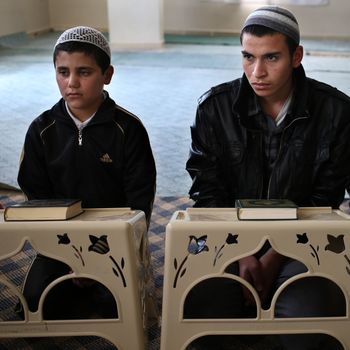 Young Syrians attend a class of Islamic religious lessons at an Islamic teaching center designed to counter ISIS indoctrination, near the Turkish-Syrian border city of Sanliurfa.
Photo: Hussein Malla/AP/Corbis
Children, after being abducted or recruited by ISIS, are sent to training camps where they are taught to execute people by watching videos of previous beheadings and then practicing the act on dolls. This is according to new reporting from the Associated Press based on interviews with children who have escaped the group, and with people involved in trying to counsel and reintegrate those escapees. The report indicates that ISIS seems intent on raising a new generation of militants using the young, and usually without the consent of the children's parents.
Abducted children, like those taken from Yazidi towns attacked by ISIS, are moved to reeducation camps where, after being stripped of their religion and cultural identities, they are trained to become jihadi fighters. The Islamist group also recruits boys from among Sunni populations within its territory and in refugee camps, using gifts, threats, and brainwashing to draw the children in, even to the point that the kids subsequently turn on their parents. Once recruited, the boys are steeped in extremist ideology, given physical training, taught to fire weapons they can sometimes barely handle, and coached to become soldiers, suicide bombers, and executioners, using videos and hands-on instruction:
The children had all been shown videos of beheadings and told by their trainers with the Islamic State group that they would perform one someday. First, they had to practice technique. The more than 120 boys were each given a doll and a sword and told, cut off its head. A 14-year-old who was among the boys, all abducted from Iraq's Yazidi religious minority, said he couldn't cut it right. He chopped once, twice, three times.

"Then they taught me how to hold the sword, and they told me how to hit. They told me it was the head of the infidels."
The report describes recent ISIS propaganda videos in which camouflage-uniformed children and teenagers are seen in camps doing calisthenics, receiving beatings, and training with firearms, in addition to videos that show children participating in, or carrying out, executions, including one in which "25 children unflinchingly [shoot] 25 captured Syrian soldiers in the head." 
The AP points out that ISIS says it has hundreds of these camps used to train and indoctrinate the children, and adds that the Syrian Observatory for Human Rights has documented "at least 1,100 Syrian children under 16 who joined IS this year. At least 52 were killed in fighting, including eight suicide bombers."