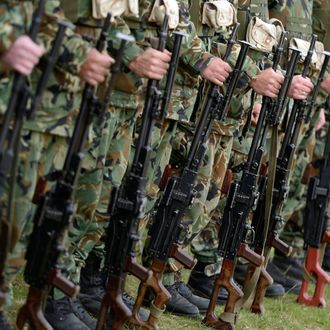 Photo: Vassil Donev/Corbis
Operation Jade Helm 15, the military training exercise that some in Texas fear is actually an excuse for the federal government to come in and take over the state, begins today. The exercises are scheduled to take place in Texas, California, New Mexico, Arizona, Colorado, and Nevada over the next eight weeks; these states were chosen because they feature terrain similar to what soldiers would see in the deserts of the Middle East. About 1,200 service members will take part in the drills. 
However, a number of Texans were worried about the fact that their state was labeled as "hostile territory" in a map describing the exercises, and a number of conspiracy theories involving abandoned Walmarts, secret FEMA camp tunnels, Vladimir Putin, aliens, false-flag operations, evil ice-cream trucks, and the U.N. trying to take over the Alamo eventually led Governor Greg Abbott to ask the Texas State Guard to monitor the Jade Helm exercises. Former Governor Rick Perry jumped in to note that "our military is quite trustworthy" and maybe everyone should chill out. 
Abbott has since tried to assure everyone that come September 15, Texas will still stand. He told KXAN last week, "We have the greatest assurances that these are normal military operations. They're going to work out just fine."
Right now, things are pretty quiet in Texas, even in Bastrop, a county that has led the anti–Jade Helm protests. There is no evidence of martial law.
The lull has not dampened residents' ability to conjure even more theories about why the military is coming. These theories could also double as summer movie plots if proven unfounded. One man told KXAN, "There's two theories, which both of them lead to martial law. Either which way it goes. Whether it is because of the asteroid coming and they're preparing for evacuations and things of that nature for the asteroid, or it's for martial law to take over nation. But both of them point to the same thing which is the destruction of our nation."
In a press release earlier this week, the U.S. Army Special Operations Command Public Affairs Office noted that "the public can expect little disruption in their day-to-day activities since much of the exercise will be conducted in remote areas" and "the most noticeable effect the exercise may have on the local communities is a slight increase in vehicle traffic and the limited use of military aircraft and its associated noise."
In Kerrville, retired firefighter and sheriff's deputy Eric Johnston is coordinating a group of about 20 volunteers in a "Counter Jade Helm" surveillance operation, according to the Houston Chronicle. "If a team member sees two Humvees full of soldiers driving through town, they're going to follow them. And they're going to radio back their ultimate location." There are similar groups in other states. Although Johnston is eager to act as Jade Helm's watchdog, he insisted that he is not affiliated with the more imaginative conspiracy theorists opposing the exercises. "Once I saw the freaking nut-jobs coming out of the woodwork I was spending half my day discrediting what they were posting. No nut-jobs will be put in the field."
Plenty of people in the state aren't too worried about the operation, either because they agree with the military and think that this is just routine training, or because they have great faith that Texas is more than equipped to overtake the U.S. military if necessary. A commissioner in Tom Green County told the New York Times, "If the government has an idea they can come in and take over, and take guns away, the stupidest place they could come is West Texas. There's more guns and ammo here and more people willing to use them than any combat area they've fought in. Bad things aren't going to happen here."
The army is even optimistic that most of the opposition to Jade Helm has evaporated in the past few months. USASOC spokesman Lieutenant Colonel Mark Lastoria told Army Times, "Even a lot of the journalists in Texas have said a lot of the controversy has died down." 
Marion County Judge Lex Jones says Jade Helm has been reduced to a local restaurant gossip talking point, and the mayor of Bastrop is equally convinced that the next two months should be relatively problem-free, for the military and the theorists alike. "I don't know anybody who's concerned," Ken Kesselus told KHOU 11. "And I don't know anybody who knows anybody who's concerned."
He hasn't received any requests for protest permits, and the only people asking him about Jade Helm at this point, he says, are reporters.